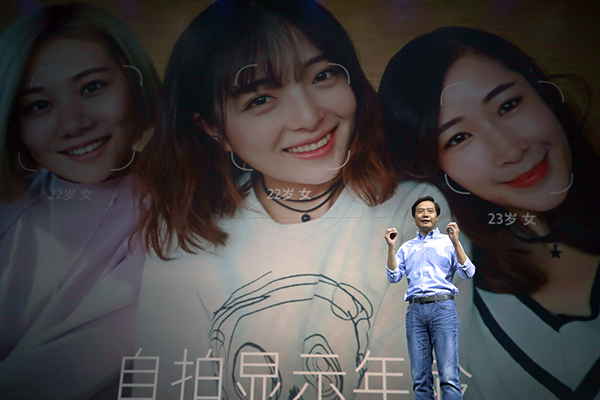 Lei Jun, founder of Xiaomi Corp, introduces Mi 5's functions during the launch ceremony in Beijing. [Photo provided to China Daily]
Move over, Apple and Samsung. The next big smartphone might be from little-known Chinese brands such as TCL and OPPO.
Along with other Chinese phone makers such as Huawei and Xiaomi, Chinese brands have surpassed Samsung in China and are encroaching on Apple's turf. In the coming years, analysts forecast that these cheap Android phones with not-so-cheap features will likely attract more budget-conscious customers in Europe and even in Samsung's and Apple's home markets, South Korea and the United States.
Chinese phone makers made their global ambitions known at late last month's Mobile World Congress wireless show in Barcelona, Spain. Huawei and TCL vied to steal the spotlight from Samsung and LG, both of which announced new high-end phones at the show. Xiaomi, which typically launches phones in China, will preview the Mi 5 phone in Barcelona.
"The Chinese smartphone vendors have a very unique feature-it is the price," said Shu On Kwok, editor of AndroidPIT, a website that tracks Android developments. "You get the same features as an LG or a Samsung smartphone has hardware-wise, but for a lower price."
Samsung saw its market share decline in 2015, while Apple forecast its first revenue decline in over 13 years. Both will have to do more to prove the value of the extra dollars their customers pay.
Along with premium hardware, Apple has tried to position its products as unique by offering software, services and apps that work only on Apple devices-although in many cases comparable services are available for Android devices.
The Chinese brands have already taken their toll on Samsung. Although it's still the largest smartphone maker in the world, Samsung is no longer among the top five phone makers in China, according to market research firms IDC and Counterpoint Technology. Profits from the mobile business have plunged to less than half of what it was in its heyday. Apple's sales in China rose in the fourth quarter, but its growth was outshone by Huawei. But bad news for manufacturers is good news for consumers.
Many of these Chinese companies sell decent phones for less than $200, compared with about $650 for an iPhone or high-end Samsung Galaxy phone. In other words, for the same price, customers can buy three or four smartphones with decent cameras and screens.
Chinese makers can keep prices low by reducing the profit margin and turning to cheaper components that are a year or two old. That means high-end phones still take better pictures and have sleeker, thinner designs. But phone innovation has slowed, and the advances appear marginal to many consumers. A Huawei photo taken in good light often looks just as good as an iPhone or Samsung shot when displayed on a small phone screen.
Melissa Chau, senior research manager at IDC, said Chinese companies are catching up on phone design and quality even more quickly than Samsung did a few years ago.