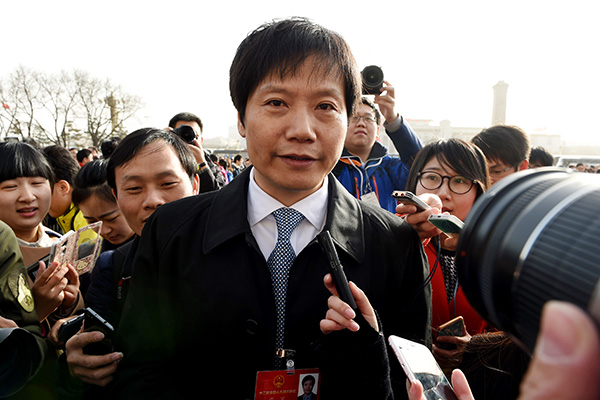 Xiaomi's CEO Lei Jun accepts interview in Beijing, March 5, 2016. [Photo/IC]
For Lei Jun, CEO of leading smartphone and TV accessories maker Xiaomi Corp, the standout quote from this year's Government Work Report was: "development is the absolute principle".
The delegate to the National People's Congress, the country's top legislature, said that this statement gave encouragement to China's entrepreneurs.
"When facing many complicated issues, I think confidence is the most important thing," said Lei.
"As entrepreneurs, the government's positive attitude toward development is really important to us."
Confidence can also be imparted by focusing on successes rather than failures, Lei said.
"Many people question innovation and entrepreneurship because of the high failure rate of startups. I don't think this is something we should make a fuss about. Starting something new from scratch comes with the high risk of it shutting down. About 90 percent of startups will shut down," he said.
"However, the majority of big, successful companies have built themselves up from prior failures. This happens in every industry, so we should pay more attention to the successes instead of the failures. Even if only a few succeed, they can bring a positive influence to society."