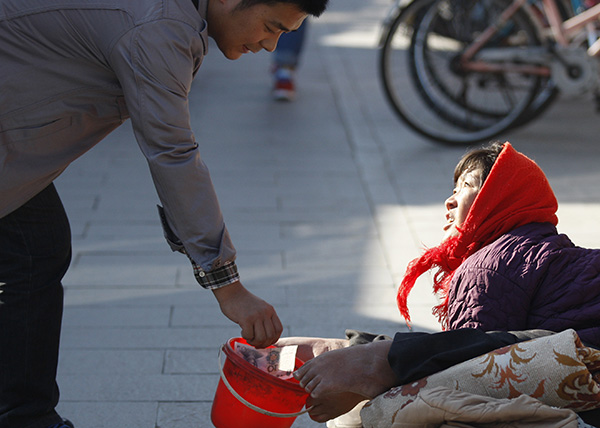 A resident gives cash to a beggar in downtown Beijing. [Photo/China Daily]
At least 10 million rural residents will be lifted out of poverty this year as the solemn promise of poverty alleviation is delivered upon, Premier Li Keqiang said.
The amount of central government funds allocated to combat poverty will increase by 43.4 percent year-on-year, the premier said to the ringing applause of national legislators and political advisers at the Great Hall of the People in Beijing on Saturday.
"This year, we will help more than 10 million rural residents lift themselves out of poverty, including over 2 million poor residents who are to be relocated from inhospitable areas," Premier Li said in his annual Government Work Report.
Addressing the opening of the annual national legislative session, Li said: "Poverty reduction is a must, governments at all levels have made the pledge, and it must be accomplished both qualitatively and quantitatively within the time frame set."
The central government has pledged to lift all of China out of poverty by 2020. Despite the country's economic prosperity over recent decades, by 2015, there were still 70 million people living below the poverty line of 2,300 yuan ($365) in annual income by 2010 price standards.
Central government funds allocated to poverty alleviation will amount to 20.1 billion yuan this year, according to a document the Ministry of Finance submitted on Saturday to national legislators for discussion and deliberation.
Li urged local governments to continue rebuilding dilapidated housing in poor rural areas, and to expand and improve infrastructure such as roads, water and power supplies, and increase Internet access.
"We will encourage the eastern region to help in the alleviation of poverty in the western region, and support nongovernmental participation in combating poverty," he said.
The premier said that enhanced alleviation efforts had reduced the number of people living in poverty by 14.42 million, or nearly 40,000 every day, in China's rural areas last year.
Wang Wei, a national legislator from Shandong province, said he was very encouraged by Premier Li's pledge to increase funding for the country's poverty relief work.
"The drastic rise in expenditure for poverty alleviation indicates the government is serious about its promise," he said.