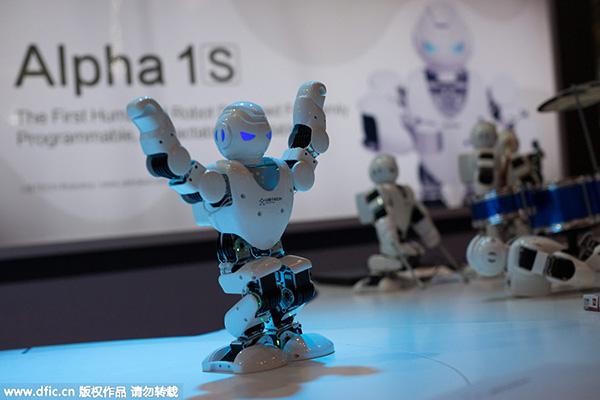 An Alpha 1S Intelligent Humanoid Robot performs dance moves during a demonstration at the 35th HKTDC Hong Kong Electronics Fair (Autumn Edition) in Hong Kong, China, Oct 13, 2015. [Photo/IC]
BEIJING - The draft outline of the 13th Five-Year Plan (2016-2020) on national economy and social development was presented on Saturday to the Fourth Session of the 12th National People's Congress for review.
Following are the goals and missions set in the draft outline for the years between 2016 and 2020.
Growth
-- Keep medium-high growth to double China's GDP and per capita income by 2020 from the 2010 level.
-- Promote innovative, coordinated, green, open, and shared development.
Innovation-driven development
-- Make breakthroughs in core technologies including information communication, new energy, new materials, aviation, biological medicine and intelligent manufacturing.
-- Advance scientific research on universe evolution, material structure, origin of life, as well as brain and cognition.
-- Vigorously initiate international major science projects.
-- Ease the criteria for foreign talents' applying for permanent residence.
-- Improve the quality and efficiency of supply and stimulate real demand to strengthen new growth momentum.
-- Foster new competitive advantages of foreign trade by exporting more high-end equipment and cutting-edge products with high added value.
Modern industries
-- Further implement "Made in China 2025" strategy and focus on manufacturing innovation and the integration of information and manufacturing technologies.
-- Support strategic emerging sector and improve its share in GDP to 15 percent.
-- Boost information technology, new energy vehicles, biological technology and low-carbon industries, as well as high-end equipment and materials.