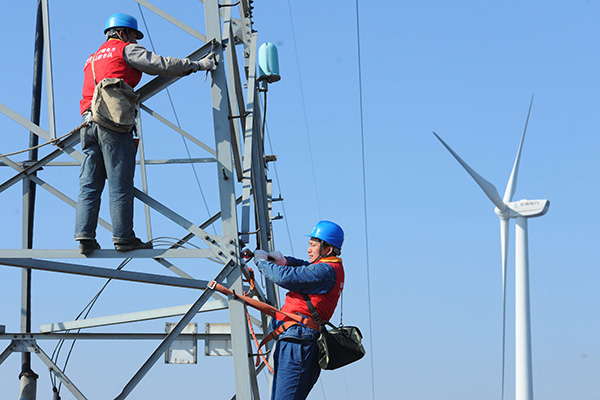 Workers check the transmission equipment at a wind power farm in Chuzhou, Anhui province. [Photo/China Daily]
BEIJING - China will put a cap on annual energy consumption between 2016 and 2020 to promote energy saving, a draft outline of the country's five-year development plan said on Saturday.
China's energy consumption will stay below 5 billion tonnes of standard coal, according to the draft outline of the 13th Five-Year Plan on national economy and social development, which is presented to the National People's Congress annual session for review.
The country consumed 4.3 billion tonnes of standard coal of energy last year, official data showed.
China will push forward an energy consumption revolution in industries, construction, transportation and public institutions in the five-year period, and actively promote energy-saving technologies, the draft said.
Given a continued economic downturn, the country is seeking to make its economy grow in a cleaner and more efficient manner.
China aims to lower its energy consumption per unit of GDP by 15 percent by 2020, the draft said.
The country is also promoting the use of clean energy, including wind, solar and nuclear power, to restructure energy consumption currently dominated by coal.