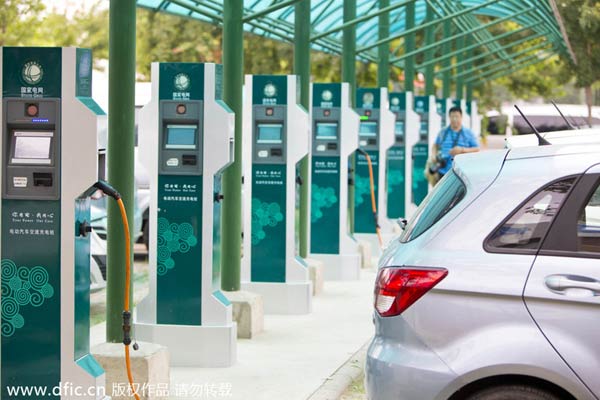 View of the charging facilities at the production site in Daxing district, Beijing, July 23, 2014. [Photo/IC]
BEIJING - China's production of new energy vehicles surged by 144 percent year on year in January to 16,100 units, the Ministry of Industry and Information Technology said on Tuesday.
The output of pure electric passenger vehicles tripled from the same period last year, reaching 7,952 units in January, the ministry said in a statement.
Plug-in hybrid passenger vehicles reached at 2,422 units, with an increase of 80 percent year on year.
Plug-in hybrid commercial vehicles saw a mild drop in output by 4 percent, standing at 834 units.
Official data showed that 97 percent of new energy vehicles produced in January would benefit from favorable taxation policies.
China has rolled out measures to promote new energy vehicles in a bid to save energy and combat pollution, including tax exemptions, subsidies for car purchases and a requirement for government departments to buy more new energy cars.