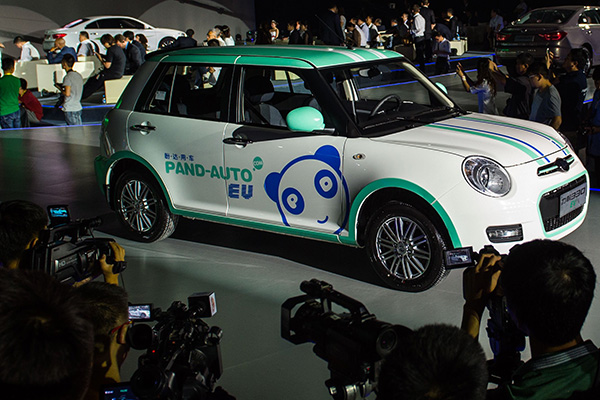 Lifan's new-energy car is seen in this file photo, June 9, 2015. [Photo/Xinhua]
BEIJING -- China will continue to roll out favorable policies to encourage the construction of new energy vehicle (NEV) charging facilities in 2016-2020.
The government will reward major provinces and cities with prizes of between 90 million yuan ($13.6 million) and 120 million yuan that welcome more than 30,000 NEVs to their roads in 2016, said a guideline jointly released Tuesday by five administrative departments including the Ministry of Finance, and the National Development and Reform Commission.
In 2020, the reward will increase to 126 million yuan should there be more than 70,000 NEVs on the roads.
The cash prizes will support the construction, operation and upgrade of NEVs charging facilities and the operation and supervisory system for NEV battery charging and swapping service network.
China's NEV sector has seen explosive growth in the past two years, thanks to subsidies and tax cuts.
China's NEVs output increased about four-fold year on year to 379,000 in 2015, according to the Ministry of Industry and Information Technology.
According to a guideline released by the State Council, China will build more than 12,000 new charging stations before 2020 to fulfill the demands of over 5 million NEVs.