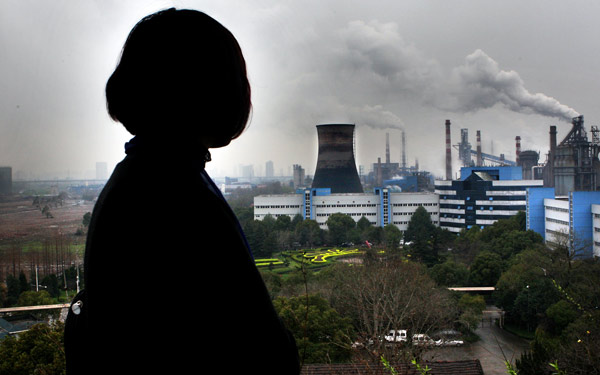 A resident looks out her home window facing the smoking chimney of a thermal power plant in Zhejiang province. Coal-fueled thermal power plants have become a major source of the country's air pollution. [Photo/China Daily]
Coal is going to make way for new energy in China through various reforms in the 13th Five Year Plan (2016-20) as the country battles air pollution, said experts.
"China has to build a strong and efficient alternative energy industry in order to cope with the environmental challenges," said Zhao Yong, associate researcher of the Energy Research Institute of the National Development and Reform Commission. "Using less energy to drive more output is the key solution to China's healthy growth."
In June 2015, the Chinese government submitted a document to the secretariat of the United Nations Framework Convention on Climate Change, specifying that China is committed to reducing the carbon dioxide emission per GDP by 60 to 65 percent by 2030 compared with the level in 2005. The consumption of non-fossil energy will count for 20 percent of the primary energy consumption.
In order to achieve these goals, China has to add new installed capacity of 100 million kW nuclear power, 150 million kW hydroelectric power, 300 million kW photovoltaic power and 400 million kW wind power between 2016 and 2030.
However, the high cost of clean energy is the biggest obstacle in the way of China's green power development. Government subsidies are therefore critical to encourage enterprises to actively engage in the green energy industry, Zhao added.
According to the National Energy Administration, coal-fired power took up 75.2 percent of the total power generation in 2014. Non-fossil fuel power, including hydroelectric, wind, nuclear and solar power, accounted for just 24.8 percent.
The total power generation in 2014 was 5.4 trillion kW, up 5.09 percent from the end of 2013. Coal-fired power reached 4.2 trillion kW, up 0.17 percent from the same period the previous year. Hydroelectric power contributed most, or 24.61 percent, to the growth.
"Solar and wind power generation, which is seen as a great hope for China's clean energy endeavor, has remained at the same level in the past two years," said Zhao.
Shi Lishan, deputy director of the New and Renewable Energy Department of the NEA, had been pointing out that supply side reform is key to overall power generation reform. A lot of the power generated by new energy is not integrated with the national grid. Worse, the operations of the new energy companies rely heavily on government subsidies. So, if subsidies are not extended, these companies' installed capacity lies idle.
Pilot programs have been put in place in some places to experiment with integration of new energy with the power grid. For instance, SPIC Mengdong Energy Group Co Ltd, based in Inner Mongolia, is running China's first regional grid to successfully integrate both coal and wind energy sources.
The company has been working for the past three years in Huolinhe in Inner Mongolia to supply its electrolytic aluminum production.
"The biggest obstacle was that wind power fluctuates greatly depending on the weather," said Liu Jianping, SPIC Mengdong Energy Group's deputy manager. "If the wind slows, it affects the aluminum production."
To resolve the issue, the group adopted a "complementary coal-fired and wind-power system" which he said is able to counter-balance any suspension in wind-generated power by adjusting the wattage of coal-fired power and the rate of aluminum production.
Apart from providing encouragement to new energy production, China is to suspend approvals for any new coal mines for three years. This is to eliminate stockpiles and increase new-energy consumption. The decision was taken at a national energy conference held by the central government in December 2015.
Nur Bekri, director of the NEA, said at the conference that with production overcapacity expected to last for quite some time, green and low-carbon forms of energy will be the main focus of the 13th Five Year Plan (2016-20).
In certain regions, China has introduced a "coal to electricity" reform. For instance, Beijing and its neighboring provinces are to replace coal-fired heating systems with electricity. According to a plan of the municipal development and the reform commission released in April 2015, all the coal-fired boilers in key areas of the city will be removed.
"China's coal consumption is divided largely into two sectors: half for power generation and half for other use," said Lin Boqiang, a professor of energy economy at Xiamen University.
"Currently, 70 percent of the coal-fired power capacity was installed around 2003, which is relatively new as such installed capacity is usually able to serve for 40 to 50 years. If these installed units run at peak efficiency, they will be able to replace other coal-consuming sectors to a great extent," said Lin.
"Statistics have shown that with every 1 percentage point increase in the proportion of electricity in terminal energy consumption, energy intensity, or the ratio between energy consumption and economic output, drops by 4 percent. Therefore, replacing low-efficiency energy with electricity is going to reduce energy consumption," Lin said.