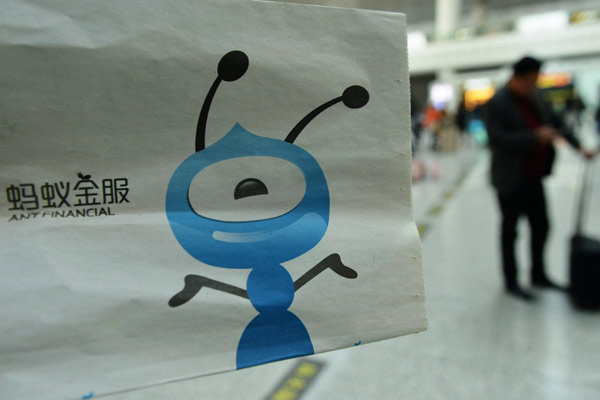 An advertisement of Alibaba's financial arm Ant Financial in Hangzhou, capital of East China's Zhejiang province. [Long Wei/For China Daily]
BEIJING -- Chinese authorities will launch a campaign to regulate Internet finance, which is growing rapidly but threatens social stability due to illegal activity.
Departments of political and legal work at all levels will work with banking regulatory authorities to establish a monitoring and warning system against financial risks and enhance information sharing among different regions and departments, according to a statement released at the central conference on political and legal work held Friday to Saturday in Beijing.
Internet finance refers to loans, investments and other financial services through online channels rather than banks and other traditional financial institutions.
Growing Internet finance industry has helped reduce trade costs and made investment easier. But risks have surged as some people have been discovered to be raising funds illegally. These crimes, involving many people and a large amount in assets, may cause social risks.
Authorities will crack down on illegal activities while protecting the legitimate rights of citizens and enterprises and mitigating investor losses. They will also educate the public on risks, according to the statement.
Police are investigating the Beijing-based E-Zubao, a large online financing platform, and associated companies for suspected illegal activities, authorities said.
China has seen increased online fraud, particularly in peer-to-peer lending, in the past year, according to a report published by online security company Liewang, whose name translates to "Web Hunt."
The company handled 24,886 reports of online fraud in 2015, up 7.96 percent from last year. The claims were worth a total of 127 million yuan ($19 million). Per capita claims were 5,106 yuan, about 1.5 times the number in 2014, it said.
Statistics show China has about 2,595 P2P platforms across the country, an increase of 1,020 compared with the 2014 figure.