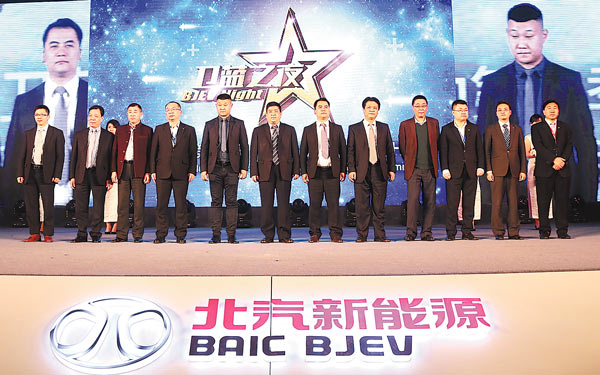 BAIC BJEV dealers and service providers receive awards at a company event on Jan 18. [Photo/China Daily]
BAIC Group's electric car making arm, Beijing Electric Vehicle Co, has announced its five-year plan for developing new-energy vehicles, after topping the domestic new-energy vehicle market in terms of volume.
The electric carmaker, also known as BAIC BJEV, plans to expand its annual production to 800,000 units and achieve sales volume of 500,000 units by 2020. It also expects to realize 60 billion yuan ($9.1 billion) in annual revenue in the next five years.
Zheng Gang, head of BAIC BJEV, said: "The company will embrace a research and development team with more than 5,000 members, throughout the entire industrial chain. ...Our world-level innovation center plans to make three models stars in their segments."
Zhang Yong, deputy general manager of BAIC BJEV, said the company is working on collective innovation for a future product, inviting input from customers and media, together with its design studio.
BAIC BJEV expanded its market share in the segment to 25.8 percent and the brand became the world's fourth-largest fully electric car manufacturer, according to a company news release on Jan 18.
BAIC group's Hong Kong-listed arm, BAIC Motor Corp, filed a report with the stock exchange saying its new-energy vehicle sales totaled 20,131 units in 2015, a jump of 268.6 percent from the 5,462 units sold in 2014.
Jia Xinguang, a senior analyst with the China Automobile Dealers Association, said: "BAIC has made progress in new-energy technologies through strategic cooperation with Daimler Group. The future electric cars are going to be built with technologies from the platform for Mercedes-Benz cars. The ideal situation could be that BAIC and Daimler share the platform for premium products.
"However, there's no substantial market for new-energy vehicles yet. NEVs are not yet mainstream."
A total of 331,092 new-energy vehicles sold in the world's largest automobile market last year, including 146,719 fully electric passenger cars, a surge of around 300 percent from 2014.
The electric car company's five-year plan targets becoming listed on a mainland stock market, with a market value of 100 billion yuan, by 2020. The plan was released two months after the State-owned group said in October 2015 that it would list its company on one of the country's A-share markets by 2020.
BAIC BJEV is trying to spin off its solely controlled Hong Kong shell company, which has net assets of 564.6 million yuan and is valued at 624 million yuan.
BAIC BJEV had earlier planned to gain listing on the Hong Kong Stock Exchange, as BAIC Motor Corp completed its initial public offering in Hong Kong in December 2014.