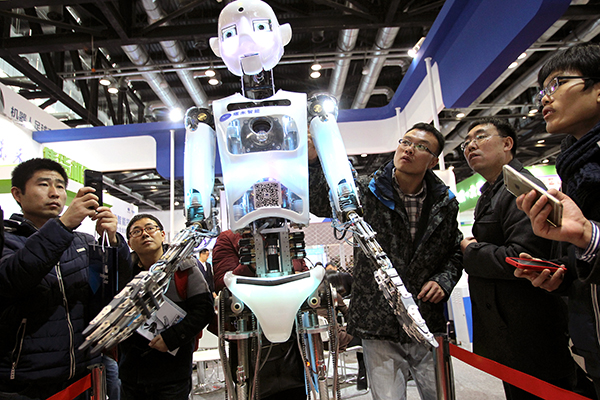 A robot made in China is displayed at the World Robot Conference 2015, which opened in Beijing on Nov 21, 2015. The conference has attracted more than 100 experts. [Photo/China Daily]
BEIJING -- A new wave of artificial intelligence (AI) could fundamentally change the world, with driverless cars navigating through traffic jams, celebrity avatars chatting with fans on Twitter and robot caregivers and companions in nursing homes.
This is the far-off future as presented by Pulitzer-winning New York Times tech reporter John Markoff in his new book, "Machines of Loving Grace," in which the longtime observer of Silicon Valley discusses how humans can cope with the advent of the AI era.
"In the coming years, artificial intelligence and robotics will have an impact on the world more dramatic than the changes personal computing and the Internet have brought in the past three decades," Markoff writes. In an interview with Xinhua in Beijing, Markoff said people should reflect on whether machines will steal human jobs and whether they can be trusted and given autonomy.
Some changes are right around the corner. Markoff said the mankind might soon face robots that can mimic human emotions convincingly. "Imagine a Jennifer Lawrence avatar on Facebook or WeChat that can chat with you all day," he said, citing software developed by an Israeli company to emulate celebrities.
Markoff said technology will make use of people's anthropomorphizing tendencies to treat everything as human, "these robots can easily fool us into believing we are dealing with real people -- a worrisome trend in the writer's eyes."
"You tend to trust these machines, but you don't know what their motives or goals are," Markoff said, pointing to new social problems that could arise when socially astute robots are employed, for instance, by the advertising world to sell products.
Humans still in control
For many other AI technologies, Markoff warned against overestimating the speed of change or how quickly they will thwart humans.
Progress in self-driving cars, for example, may be slower than expected, according to Markoff, who was the first reporter to cover Google's self-driving project.
The idea of driving without a driver has been so commercially popular that Google, Tesla, and Chinese Internet giant Baidu are all working on developing the technology. However, Markoff said it might take many years to overcome technological barriers and ethical and regulatory problems related to self-driving cars.
"Cars will increasingly have intelligence and become smarter, but you won't be able to take drivers out in ten years," he said.
Just as robots are unlikely to grab the wheels from drivers' hands in the near future, Markoff remained skeptical that smarter AI will soon replace human labor, causing mass layoffs.
Markoff said he is curious about the reactions of Chinese people toward AI, such as Microsoft chat-bot Xiaoice.
He said the chat-bot seemed more popular in China compared to the West, and Chinese people treated it more as a companion, citing Microsoft data indicating large percentages of Chinese users have texted "I love you" and "Thank you" to Xiaoice.
"I believe it says something different between our cultures," he said.
Markoff said aging societies such as China's can expect robots to help tackle their shrinking pool of young workers and an increasing number of elderly people in need of care.
China has included robotics in its five-year development plan for 2016-2020. Last year, the southern Guangdong province said it would employ robots in about 2,000 companies in three years to tackle its labor shortage, and a nursing home in Shanghai has reportedly introduced chat robots to entertain its elderly residents.
"Right now, machines are more tools, and we design the tools," he said.
Markoff said the development of much-needed elder care robots could take a long time. "Now there are no robots that can safely give elderly humans a shower. When will there be such a robot? Nobody can give a date."