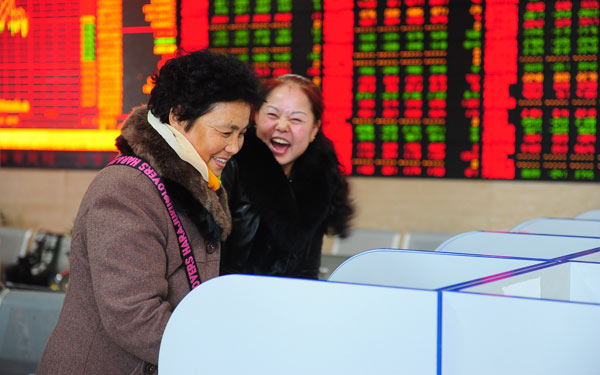 The forthcoming initial public offerings under the new registration-based system are expected to boost investors' confidence.[Photo/China Daily]
Reasonable valuations, safer IPOs and ample liquidity promise to be the game-changers
Having shown signs of a mild recovery last week, the A-share market may rebound this week due to three main reasons, analysts said.
One, valuations have reached reasonable levels. Two, initial public offerings under the new registration-based system promise to boost investor confidence. And three, liquidity may be adequate in the run-up to the Spring Festival.
Benchmark indexes will stabilize in the next few weeks after the intense sell-off so far this month, researchers said.
A report by Nomura Asian Equities Research said that in the near term, it is believed a possible market rally and solid earnings prospects may present an appealing entry point for investors.
"Longer term, we believe that the broker sector is likely to benefit most notably from a maturing market composition, direct financing and asset reallocation," the Nomura report said.
The A-share market has slid some 15 percent this month/year and trading became less active as investor sentiment dimmed amid the benchmark indexes' falls over several consecutive trading days.
Hong Hao, chief strategist at investment bank BOCOM International Holdings Ltd, said in a research note that the Shanghai benchmark index has reached a reasonable valuation level around 2,900 points, and for investors who are brave enough, it can be a good buying opportunity. Analysts said market events, including IPOs under the new rules of bidding for new shares since last Friday, may help activate trading.
This week, four companies will list their shares. Suzhou Institute of Architectural Design Co Ltd will list today, Eastern Pinoneer Driving School Co Ltd on Wednesday, Southern Publishing & Media Co Ltd on Thursday, and Luyan (Fujian) Pharma Co Ltd on Friday.
The four IPOs are expected to encourage investors to activate their dormant trading accounts. Some 4 billion yuan ($608 million) will likely be raised this month from seven IPOs.
A research report from Cinda Securities Ltd said it is very important to boost investors' confidence and interest in trading, and the IPOs could be an immediate trigger.
The report further said investors who walked away from the market may consider adjustments to their portfolios after the IPOs under the new rules, which could encourage more investors to seek to buy, given the wider access threshold.
Also, market liquidity will be managed in a more reasonable way under the new rules, giving investors more confidence in the benchmark indexes' performance. For, the old requirement of full subscription payment before share sales has been removed.
A research report from Haitong Securities Co Ltd said share prices of companies in segments like brokerages, financial services and property development may benefit the most from liquidity easing in a near- and medium-term.