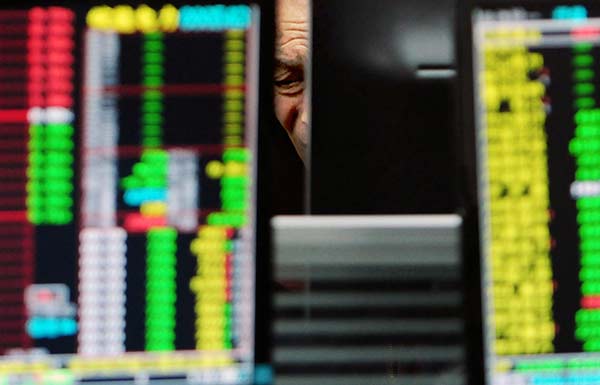 A small investor checks out market information at a brokerage in Jiujiang, Jiangxi province. [Photo by Hu Guolin/China Daily]
The A-share plunge has sent 99 stocks back to their start point, as they fell below offering price amid the market rout reported Securities Daily.
As of Monday close, the benchmark Shanghai Composite Index has lost 17.3 percent since the beginning of the year, while the Shenzhen Component Index plunged 24 percent.
Companies including Jinbei Auto, Sinovel Wind Group, China National Coal Group and Shuangxing Color Plastic New Materials Co saw their stock price tumble below half of their offering price, according to the newspaper.
About 25 companies' market value edged below their net asset, including some of the largest blue-chips such as Sinopec, Bank of China and Agricultural Bank.
The market rout came as China's consumer inflation gauge hit a six-year low, according to official data released over the weekend. The consumer price index (CPI) increased 1.4 percent year on year in 2015, down from a 2 percent increase in 2014 and the government's 3-percent target.
HSBC analyst Qu Hongbin said CPI growth was much lower than previous levels, showing rising deflation pressure caused by sluggish demand will pose a major risk in 2016.
The Shanghai gauge rose 0.3 percent to 3,026.54 at 1:15 pm on Tuesday, after swinging around the 3,000 level.