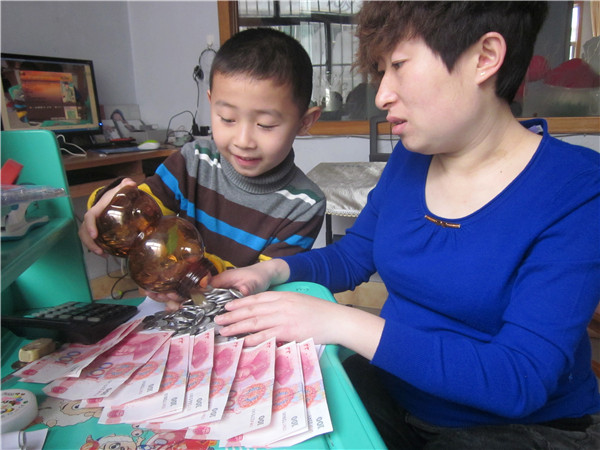 A mother from Xintai, Shandong province, teaches her son how to manage money matters. [Photo/China Daily]
BEIJING - China will increase deficit-to-GDP ratio to 3 percent this year from 2.3 percent last year, and cut taxes across the board, according to a government work report available to media Saturday morning before the opening of the annual parliamentary session.
China will pursue a more proactive fiscal policy, with government deficit for 2016 projected to be 2.18 trillion yuan ($335 billion), an increase of 560 billion yuan over last year.
Of the deficit, 1.4 trillion yuan will be carried by the central government, and the remaining 780 billion yuan will be carried by local governments, according to the report.
"The moderate increase in government deficit is projected primarily to cover tax and fee reductions for enterprises, a step that will further reduce their burdens," the report said.
The report included measures that would alleviate the financial burden on enterprises and individuals by over 500 billion yuan.
One of the measures is the replacement of the business tax with the value-added tax in all sectors, ensuring "the tax burdens on all industries are reduced."