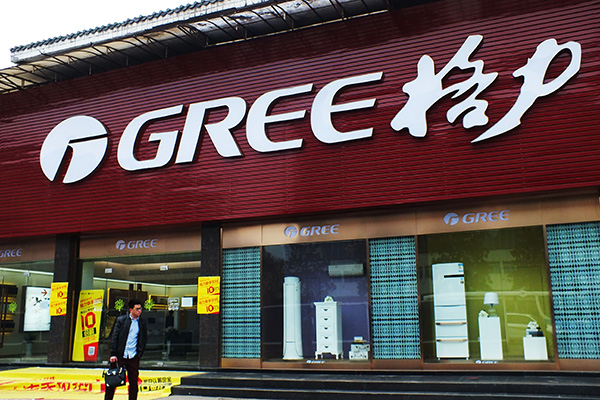 An outlet of Gree Electric Appliances Inc in Yichang, Hubei province. [Photo/China Daily]
Gree Electric Appliances Inc, a leading Chinese home appliances maker, is planning to branch into new-energy vehicles by acquiring a local electric car producer which controls a Nasdaq-listed US battery firm.
It's the latest effort by China's largest air-conditioner manufacturer to diversify its business, as dwindling air-conditioner sales weigh on revenue and profitability.
Gree is planning to issue new shares to buy Zhuhai Yinlong New Energy Co, which itself is the controlling shareholder in Altair Nanotechnologies Inc, a Nevada-based lithium battery company, the company said on Sunday.
Headquartered in Zhuhai, Guangdong province, Gree did not disclose what stake it would take in Zhuhai Yinlong or the possible investment value. A spokesman for Gree said details are sill under discussions.
Zhuhai Yinlong was China's seventh-largest seller of electric buses in 2015, after racking up 7,000 orders and producing more than 3,100 electric vehicles, data from its official website show.
With three production bases across the country, it has the capacity to make 33,000 electric buses and 100,000 electricity-powered SUVs yearly.
Liu Buchen, an independent researcher on the home appliances sector, said its move comes as Gree is under mounting pressure to seek for new growth points.
"Gree generates about 95 percent of its revenue from selling air conditioners," Liu said.
"But over-reliance on a single product is increasing the company's financial risks, especially as the air-conditioner industry is having bad years."
In the first three quarters of 2015, Gree's revenue plunged more than 17 percent year-on-year to 81.5 billion yuan ($12.5 billion) due to overcapacity and weakening demand.
"Undoubtedly, the new-energy vehicle market boasts huge growth potential, but it is difficult to say whether that can be Gree's opportunity, given the fierce competition," he added.
Internet giants Tencent Holdings Ltd and Baidu Inc, as well as e-commerce heavyweight Alibaba Group Holding Ltd are all eyeing the sector through either partnerships or acquisitions, partly stimulated by strong policy support from the government.
Last year, sales of new-energy vehicles more than tripled to more than 331,000 units in China, including more than 247,000 pure electric cars and 83,600 plug-in hybrids, according to the China Association of Automobile Manufacturers.
The central government expects that cumulative sales of new-energy vehicles to reach 5 million units from 2012 to 2020.
Gree's interest in new-energy vehicles is not the company's first step to branch beyond the home appliances sector.
In 2015, it launched a 1,600 yuan smartphone designed to meet consumers' growing demand for quality products, but sales failed to meet Gree's expectations.