Electronic products giant already testing a new range of smartphones
Dong Mingzhu has a vision for the future of Gree Electric Appliances Inc-to develop more electronic products related to smart-home appliances, even though the company's major source of income slowed during the first half of the year.
Dong, president of Gree, said the plan is based on the company's already-strong capabilities in self-developed home appliance technology, especially its air conditioners, which have proved to be highly competitive both domestically and overseas.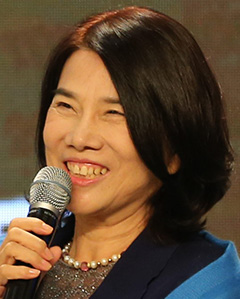 Dong Mingzhu, president of Gree Electric Appliances Inc
Speaking at the launch of Gree's new air conditioner, refrigerator and air purifier models in its home city of Zhuhai, Guangdong province, on Tuesday, she said: "It is a natural process for Gree to diversify its products, given we have developed a series of strong core technologies and efficient sales channels over the years."
One of its latest moves has been to develop smartphones, which are expected to help the company better integrate its traditional appliances business with the booming Internet industry.
"We need to develop our own smartphones, which will help better connect our smart-home appliances to the Internet," she said.
Gree has already been testing a range of smartphone products, priced as low as 1,200 yuan ($188).
"Currently the phones are being sold only to our employees as we are testing them before the official launch," Dong said.
The Gree-branded devices are installed with a picture of Dong, and display a greeting message from the president herself when switched on, which has already caused quite a debate among social media.
"We want to tell users that we are providing them with a service, and we need their feedback," Dong said.
The new smartphones will be officially launched after being upgraded with more advanced technology.
"We will improve all their accessories and introduce our own self-developed operating system into them," said Dong, adding the new versions are likely to hit the market by the end of the year.
She refused to specify sales targets for the new smartphones, saying only that "production capacity will be expanded in accordance with market demand".
In addition to smartphones, Gree expects to start producing other new electronic products to support its overall strategy of becoming more of a global brand.