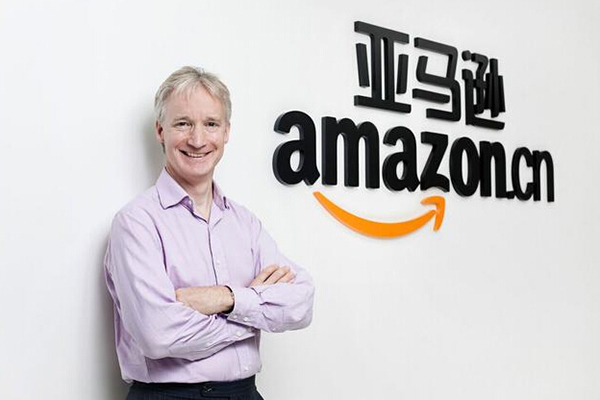 Doug Gurr, Amazon China president. [Photo provided to China Daily]
While some lament China's economy entering a "new normal" era of slower growth, the head of Amazon China says the cooling growth rate actually fits perfectly with the online retailer's agenda.
"We see a lot of opportunities in e-commerce-cross-border e-commerce in particular, as the Chinese economy moves from low-cost manufacturing to creating brands," Amazon China President Doug Gurr said.
In mid-August, when the Chinese arm celebrated its 11th anniversary, Gurr introduced a concept called Cross-Border 2.0, which he used to describe the updated cross-border online shopping services Amazon China can offer for faster delivery.
The upgrades also include a series of initiatives to help China-based sellers export globally through Amazon Global Selling. Sales more than doubled in the first half of 2015 compared with the same period last year.
Gurr said Amazon will choose some of the most popular items online and import them directly to China.
"So when Chinese customers place orders online, they will not only get authentic overseas products, they can get their deliveries within three days on average," he said.
He did not reveal exact figures for the company's cross-border e-commerce business in China, but he said it had seen tremendous growth since November.
In November, Amazon China launched its Amazon Global Store service, which allows Chinese customers to buy goods directly from its online shopping platforms in other countries-currently only from its US website, but it's in the process of expanding to other Amazon sites.
Since taking over the China division of the company about a year ago, he has been vigorously refocusing the business, with cross-border e-commerce taking priority.
"Cross-border e-commerce is a booming trend globally and represents the most dynamic driving force in China's e-commerce development," Gurr said. "We take China as a strategically important locale from a global perspective and will continue to invest in China.
"Our vision is very clear: Helping China customers gain access to high-quality and authentic international products at fair prices, and helping China-based sellers to grow their business globally."