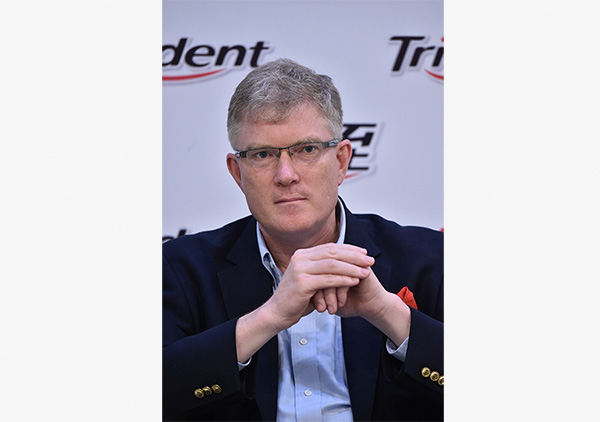 Stephen Maher, China president, Mondelez
To coincide with President Xi Jinping's first state visit to the United States, China Daily asked senior executives with American companies for their opinions on China's business environment.
Companies in China are facing the challenge of rising costs. Will this affect your plans in China or will you continue to invest in the country? Do you have any plans to relocate to the US or elsewhere in the region?
With 1.4 billion consumers and a rapidly growing middle class, China is a very important market for Mondelez. Despite the short-term challenges of rising costs, Mondelez has a long-term vision in China, and our commitment remains strong. Mondelez China's current portfolio of power brands include Oreo, Chips Ahoy!, Stride, and our new products, Trident and BelVita. We will continue to introduce other global brands and snacking innovation.
How has the depreciation of the yuan affected your company? Will this play a major role in your decision to continue to invest and expand in the country and region?
We have a strong commitment to China that the majority of Mondelez China's products are domestically produced, with many ingredients sourced locally. Therefore, the depreciation does not have significant impact on our business here. Mondelez is committed to bringing our other global brands to Chinese consumers and to expand our footprint in China. Continuing to lift our profile and business success in e-commerce and small stores across China will be powerful leverage for us to continue growing.
The Chinese government believes in a stable investment environment and has rolled out policies to help international companies here by increasing transparency. What other measures would improve business efficiency and competitiveness?
We appreciate the Chinese government's continued efforts to increase transparency and rule by law. From a policymaking perspective, we expect to see continuous open dialogue between regulators and industries, which will contribute to science-based legislation. From an enforcement perspective, China is a big country and often interpretations vary among local law enforcers. We would call for a mechanism to be built through which the central regulators are able to make final clarifications or decisions when disputes arise, to avoid multiple layers of interpretation.
What are the greatest challenges your company faces in China, and how will you deal with them?
Our challenge continues to be three major areas: Do we have the right customer profile to reach our consumers despite the changes in shopping behaviors and locations? Do we have the right product portfolio to keep pace with the changing dynamics of the demographics (growing middle class)? Do we have the right size organization and organization skills to meet the rapid market changes in competitive, customer channels, and our supply chain?