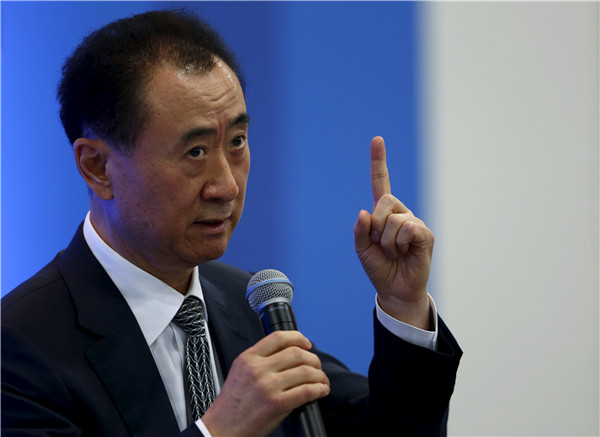 Wang Jianlin, chairman of Dalian Wanda Group Co.[Photo/China Daily]
Company set to site its headquarters for continent in London
Dalian Wanda Group Co, the Chinese entertainment, property and finance conglomerate, is expected to announce a "major deal" in Europe and to make the United Kingdom the group's headquarters in Europe, Wanda Chairman Wang Jianlin said.
Wang, speaking at Oxford University on Tuesday, said he was negotiating a major project, which would generate about 10,000 jobs and the company is going to make a major announcement on a big project in Europe.
Wanda has invested 1.2 billion pounds ($1.68 billion) in the UK in building a hotel and residences on a site in London on the south bank of the River Thames.
Wang also acquired Sunseeker International Ltd, a UK-based luxury yachtmaker, and his company employs 1,200 people across the UK.
"Soon we will be employing 3,000 people here," Wang said. His plan also includes a large retail project.
Wanda is China's largest property developer, generating about $40 billion in revenue globally each year.
He cited the importance of the markets in the United States and the UK. "The US is the biggest market, but the UK is a freer market. Here you have no approvals procedure, but the US has many approval procedures, and they can take back your license at any time over 50 years," he said.
"The UK has a good legal framework," Wang added.
Last year Wanda became the biggest cinema chain operator in the world, when it acquired AMC Entertainment Holdings Inc, a US-based movie theater chain, as well as buying Swiss-based Infront Sports and Media AG, a sports marketing company, for $1.2 billion.
It also announced in January it would be paying $3.5 billion to acquire Hollywood studio Legendary Entertainment.
Wang was recently estimated to be worth $25 billion by the Hurun Report, making him the 26th richest man in the world. Wang wants the world to come to understand Chinese management philosophy and culture through his book, The Wanda Way, which was launched in English in London on Monday.
"I hope people can get to know Chinese culture and philosophy. A country is strong when its companies are strong," he told an audience at the British Museum.
The book has already been reprinted 15 times and has sold 1 million copies in its original Mandarin, after its launch in China in 2015.
Rhodium Group research shows that investment from China accounts for nearly 10 percent of global overseas investments. In 2015, China made a record-high investment in Europe of 20 billion euros ($22 billion), up 44 percent year-on-year. In the past five years, total investment to Europe from China each year was more than 10 billion euros.
Economics experts from London & Partners are forecasting that there will be record investment from China in the UK in 2016, increasing by 35 percent.
As a result of President Xi Jinping's visit to the UK last year, British authorities announced 40 billion pounds worth of investment deals with China. The past year saw some major mergers and acquisitions in the UK from Chinese investment, totaling 22 deals, said Jin Xu, minister counselor of the economic and commercial officer of China's embassy in the UK.
Zhuzhou CSR Times Electric Co bought UK-based subsea equipment manufacturer, Specialist Machine Developments Ltd, for about 229 million pounds.
Geely Holding Group unveiled a 300-million-pound investment in new R&D and a manufacturing facility for London Taxi Company in preparation for the introduction of the next generation electric and ultra-low emission Black Cab.
Chinese footwear retailer C.banner International Holdings took over the 255-year-old British toy retailer, Hamleys, from France's Ludendo Groupe, which has owned the chain since 2012, for 100 million pounds.
According to Jin, finance, energy, property, research and development centers, healthcare, aviation and retail are among popular sectors for Chinese companies investing in the UK.
On the UK leaving the EU:
"I don't think Britain will leave. The UK has always been part of Europe, and it cannot live by itself. Don't listen to the politicians-it is easy to exit, but much more difficult to re-enter. It would be difficult for Chinese visitors. It would affect the UK economy. So my personal judgment is Britain will not leave."
On the Chinese economy:
"We have to face up to the challenges. In Chinese, we say 'risks equal opportunities'. There are difficulties for traditional industries, but sectors such as tourism, sports and entertainment offer opportunities."
On Going global:
"It is vital for Dalian Wanda Group to hire bilingual staff as part of its globalization plan."