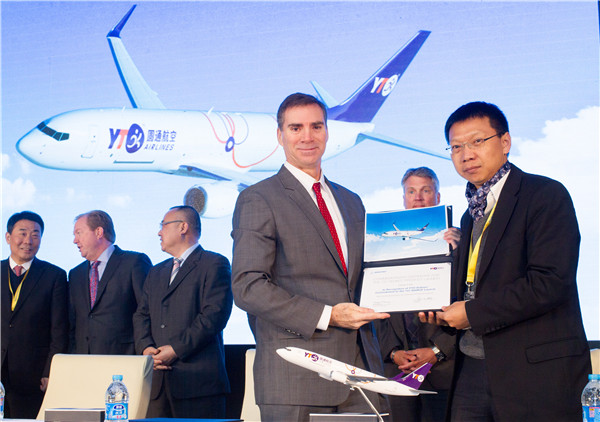 Li Hongxiang, YTO Airlines' president and CEO (right) shows the purchase contract in Shanghai on February 24, 2016. [Photo/Gao Eqiang]
US aviation giant has orders, commitments for up to 55 aircraft
Demand for express air-delivery services is accelerating fast across China, according to officials at US aviation giant The Boeing Company, as they launched its 737-800 converted freighter program in Shanghai, with orders and commitments for up to 55 aircraft.
Rick Anderson, vice-president of sales and marketing at Boeing Commercial Aviation Services, said it already had seven confirmed customers, including five from China.
The new operation will be converting 737-800 passenger airplanes into freight carriers, which will extend their economic life by about 20 years.
The first Boeing Converted Freighter, or BCF, is expected to be delivered in the fourth quarter of 2017.
After conversion, the 737s will be capable of carrying up to 23.9 metric tons of cargo, on domestic routes less than 3,700 kilometers.
"The Next-Generation 737 provides exceptional value to express freight carriers through its superior payload, range, reliability and efficiency," said Stan Deal, senior vice-president of commercial aviation services at Boeing Commercial Airplanes.