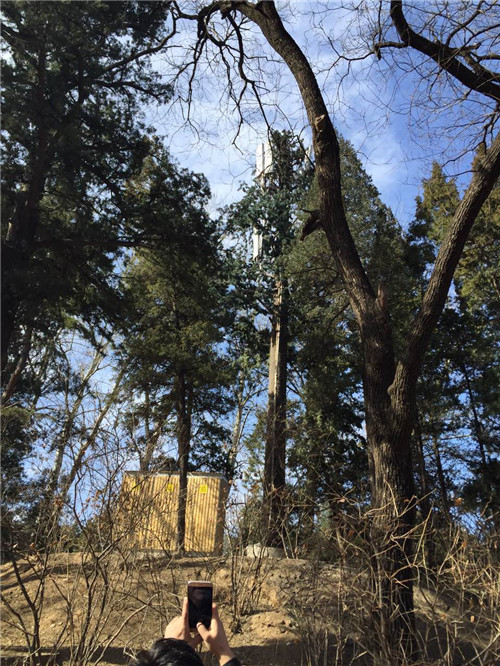 A pedestrian takes a photo at a telecom signal tower surrounded by trees at Tsinghua University, Beijing, Feb 19, 2016.[Photo provided to China Daily]
As venture capitalist Peter Thiel points out in his bestseller Zero to One, the history of progress is a history of better monopoly businesses replacing incumbents.
However, how to pass on their social benefits and discard evil dregs has been a question that has baffled governments of many.
One of the ways China Tower Corp Limited, dubbed as the epitome of a "new State-owned enterprise model", trying to answer this question is by forming a shared infrastructural platform that aims to reduce wastage of resources and capital by the three telecom giants.
The State-owned enterprise, which was established in 2014, is responsible for not only cell tower construction, but also providing supporting facilities and daily maintenance such as air conditioning and utility supply.
It was set up as the big three telecom carriers agreed to pool their tower assets to avoid overlapping construction after quashing rumors of a possible merger.
Earlier this month, China Tower announced that it has integrated some 584,000 construction orders placed by the three into 485,000 over the past year, with the latter equal to one third of the country's existing signal towers.
"The sharing rate among new towers is as high as 74.7 percent," said Tong Jilu, president of the company, adding that despite efforts made, the overall sharing level is still low compared to international standard, merely 1.3 tenants per tower by the end of 2015.
The company aims to further drive up average tenant number by 0.2 percentage points this year and enable a better 4G network coverage, said Tong.
Shared platform
"Network on high-speed train is getting better. Now I can send photo within a second," said Su Haili, an attendant who works on Beijing-Shanghai service. Along the railway line past Shandong province, telecom carriers placed a construction order of building more than 200 towers.
Given an average base station costs around 188,000 yuan, the pool model last year saved 50 billion yuan ($7.65 billion) investments for the industry and reduced the land use by 13,000 mu (867 hectare), said Tong. "China Tower is part of a shared economy."
Encouraged by the authorities, China Tower last year announced that it had completed an injection of 203.5 billion yuan worth of telecommunications tower assets from its clients and shareholders China Mobile Communications Corp, China United Network Communications Group Co and China Telecommunications Corp.
The SOE is planning an initial public offering (IPO) as part of next move in 2017. The big three telecom carriers currently own 94 percent stake, while China Reform Holdings Corp, a government-backed investment firm, acquired the remaining 6 percent in October.