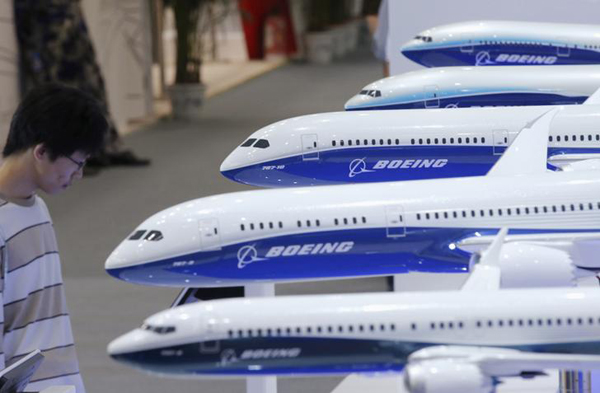 A visitor looks at a display of miniature Boeing passenger aircraft at an aviation expo in Beijing. [Photo/Agencies]

China Southern inks lucrative deals worth $12.3b with two firms
Boeing Co and France-based Airbus Group SE have been competing against one another for a slice of the growing Chinese air travel market, and 2015 has been a "banner year" for both airplane manufacturers, according to sales figures and aviation experts.
China Southern Airlines Co, the country's largest carrier, announced a $2.3 billion purchase of 10 Airbus aircraft for its fleet last week, with the order coming just shortly after it said it would buy more than 100 planes from Boeing for $10 billion.
"Carriers have to buy new airplanes, so Boeing and Airbus are having a banner year in China," said Michael Boyd, president of Boyd Group International, a Colorado-based aviation-consulting firm.
So far in 2015 to November, Boeing said it has sold 1,335 aircraft to China, 1,190 of which have been delivered. During President Xi Jinping's state visit to the US, he signed an order for 300 jets valued at $38 billion.
Airbus does not break down sales figures by country. It had sold 4,344 planes to the Asia-Pacific region through the end of November, of which 2,378 have been delivered, the company said.
Although "one mustn't look at the events of just one year to determine who is performing best", said Brian Foley, an aviation analyst and president of Brian Foley Associates in Sparta, New Jersey. "Airbus had some success with China previously and this was Boeing's year.
"I would now put each company on relatively equal footing, which is in China's best interest."
Boyd said: "Boeing's been doing very well. Performance between the two companies is neck and neck, and has been for years. It's good for everybody."
The 10 wide-body Airbus aircraft for China Southern Airlines will be delivered between 2017 and 2019, and will increase the airline's capacity by 4 percent, the Guangzhou-based carrier said in a Dec 23 statement.
The week earlier, China Southern Airlines said it would buy 30 Boeing 737 Next Generation jets and 50 Boeing 737 Max aircraft, and its subsidiary Xiamen Airlines Co was buying 30 Boeing 737 Max jets, according to The Associated Press.
The announcement came just a couple of months after Boeing said it would build a finishing plant in China, though it is unclear whether the China Southern deal is part of that agreement.
Foley said that the China Southern sale was probably not due specifically to that announcement but the "result of years of careful choreography".
Boyd said, however, that Boeing is benefiting from building the plant in China.
"Of course, the deal helped. This is how you posture-when President Xi is here, that's when you announce it. What makes sense is everybody wins and gets something out of it," he said.
"China Southern's commitment is a solid endorsement of the popularity of the Next-Generation 737 and 737 Max," said Ihssane Mounir, senior vice-president of Northeast Asia sales at Boeing Commercial Airplanes.
"We share an enduring partnership with China Southern and we are excited to see that the 737 airplanes will play an important role in their continued success."
Aviation experts predict China will need to buy more than 6,000 aircraft in the next two decades, spending about $950 billion to do so.
China's air travel market is set to add 758 million new passengers in the next two decades to bring the total number to 1.2 billion, according to November predictions from the International Air Transport Association.
It will overtake the United States as the world's largest passenger market by 2029, growing at an annual rate of about 5.2 percent.
Although growth in China has moderated due to a slowing economy, the market will still add another 230 million passenger trips in the next four years, the IATA said.