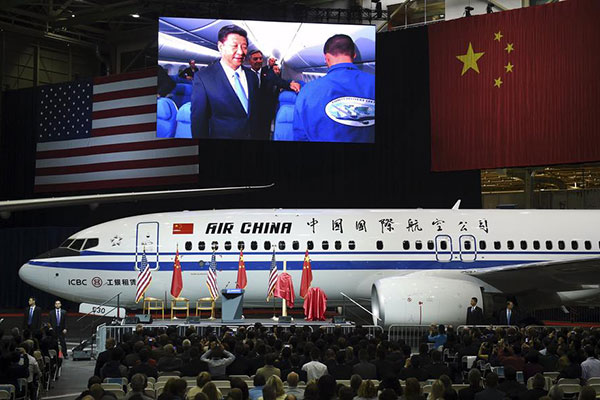 Chinese President Xi Jinping is pictured on a giant screen as he tours a 737-800 jet at the Boeing assembly line in Everett, Washington September 23, 2015. [Photo/Agencies]
SEATTLE -- Visiting Chinese President Xi Jinping on Wednesday commended Boeing's long and productive cooperation with China and urged the aircraft maker to lift the partnership to higher levels.
In a tour of the Boeing Company's commercial airplane factory in Everett, Washington state, Xi noted that Boeing's cooperation with China "has transcended time and achieved win-win results," serving as a "prototype" for China-US economic and trade cooperation.
Pointing out that a sound China-US relationship helps foster better conditions for US businesses to cooperate with Chinese peers, Xi encouraged Boeing to further boost cooperation with China and make more contributions to the economic cooperation and overall relations between the two countries.
China's development, he said, will create more opportunities for American companies and open new space for ever closer win-win cooperation between Chinese and US businesses.
Accompanied by Ray Conner, president and CEO of Boeing Commercial Airplanes, Xi walked around the factory's assembly workshop with great interest and asked about the plane maker's efforts on energy saving and emissions reduction, as well as its design ideas of future planes.
He also boarded a 787 plane which will soon be delivered to China's Xiamen Airlines, and chatted with Boeing employees working on it.
Founded in 1916 in Seattle, Boeing is among the world's largest aircraft manufacturers. Although Boeing moved its corporate headquarters to Chicago in 2001, it still keeps a strong manufacturing presence in this US West Coast port city.
With China's air transportation market expected to continue rapid growth through 2020, Boeing is striving for a bigger share of Chinese orders. On Tuesday, a group of Chinese companies signed deals with Boeing to buy 300 aircraft.
Xi's choice of Seattle as the first stop of his first state visit to the United States highlights the great importance Beijing attaches to bilateral economic and trade cooperation and people-to-people exchanges.