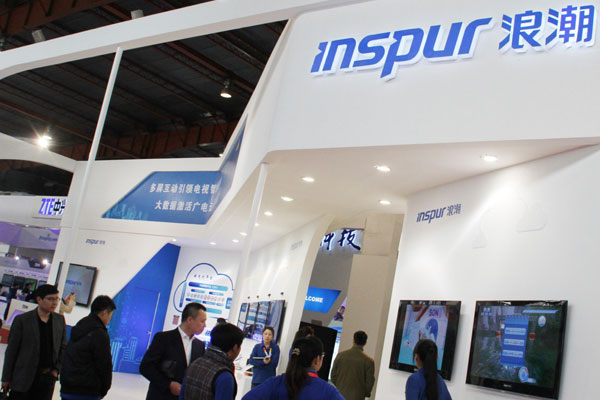 Products of the Inspur Group Ltd are on display at an exhibition in Beijing. [Photo/China Daily]
Inspur Group Co Ltd, the Chinese information technology firm headquartered in Shandong province, plans to spend at least 1 billion yuan ($154 million) on overseas cloud computing acquisitions this year, as it looks to the booming sector for growth.
Sun Pishu, chairman and chief executive of the country's biggest server manufacturer and a deputy to the National People's Congress, said the focus will be "valuable assets and technologies".
"Overseas mergers and acquisitions will help us effectively grow our presence in these areas," he said.
"We are still looking for targets, ... this (a dozen billion yuan) will work as the budget (for potential M&As)," said Sun.
Although the 54-year-old chairman refused to reveal any potential targets, he did say the firm is seeking advanced technologies from North America.
He also said Inspur's $100 million joint venture with the US information technology giant Cisco Systems Inc will be ready for business in the first half of this year, once the tie-up is approved by the authorities.
Inspur announced the deal with Cisco in late 2015 and said the JV will be responsible for reselling Cisco networking equipment in China as well as jointly developing a wide spectrum of software and hardware products. Inspur will hold a 51 percent stake in the new firm.
"Copying from others was never a correct direction to go for Chinese tech companies," Sun said.
"Instead, we join hands with overseas giants, buy up their patents and set up joint development facilities."
Gene Cao, principle analyst at Forrester Research Inc, said Inspur is likely to spend most of the budget acquiring cloud computing infrastructure, to beef up its own core services.
"Inspur will spend the rest on cloud-based operating systems and software providers, because these are the areas where it is lagging behind," said Cao, adding that besides M&As, the company is also seeking partnerships with overseas tech giants.
Thanks to strong growth in consumer electronics and cloud computing, China's IT spending has grown by 11 percent in the past year while global average growth has been between 5 and 6 percent, according to research firm International Data Corp.
Kitty Fok, director of IDC China, said the country's robust demand for servers is becoming a major driver of hardware sales, with Internet companies such as Alibaba Group Holding Ltd and Tencent Holdings Ltd among the market's biggest buyers.
"Alibaba purchased a similar amount of x86-based servers as Brazil in 2015. More servers were shipped to Tencent than to South Korea," said Fok.
With Lenovo Group Ltd and the newly restructured H3C Technologies Co Ltd also pledging a bigger presence in China, however, Inspur is likely to face strong competition, particularly as the Chinese government puts more attention on information security, forcing many overseas giants to find ways of cooperating with local players.
Last summer, Hewlett-Packard Co sold 51 percent of its stake in the Hangzhou-based H3C to State-owned enterprise Unisplendour Corp Ltd for at least $2.5 billion.
"Such deals will benefit both Chinese and overseas vendors in the long run," said Fok.