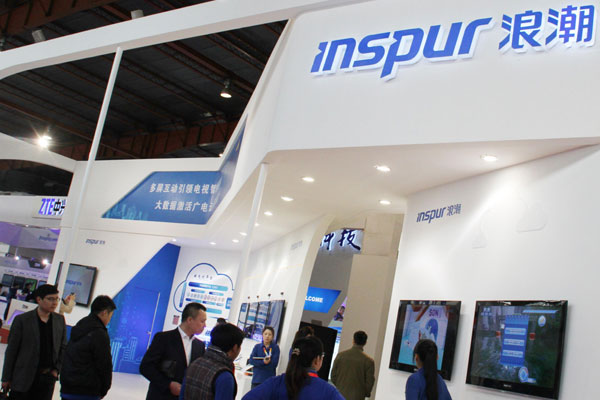 Products of the Inspur Group Ltd are on display at an exhibition in Beijing. [Wu Changqing / For China Daily]
Inspur Technologies Co Ltd, the leading Chinese server and data services provider, is now focused squarely on expanding its business outside of the country, particularly in Europe and Africa, according to Chairman and CEO Sun Pishu.
He said major Chinese telecommunications equipment vendors such as Huawei Technologies Co Ltd and ZTE Corporation had already created widespread networks in the regions.
"Now it is our turn to add data centers and services on top of that infrastructure," Sun said.
The country's Belt and Road Initiative and the creation of the Asian Infrastructure Investment Bank-flagship economic programs which will help strengthen relationship with neighboring economies-also offer Inspur what Sun called a "golden opportunity" to sell its products to the government agencies and large enterprises involved in both.
"Technically, many of our overseas customers now face similar challenges when it comes to education, healthcare and energy that China had to tackle in the past," said Sun.
Gene Cao, a Beijing-based analyst with Forrester Research Inc, said some Chinese IT companies still face fierce competition when it comes to winning overseas customers, because domestic vendors are still relative newcomers on the world stage.
"It is easier to gain market share in lower-end markets where they can compete well on price. But often the technology gap makes it difficult to enter higher-end markets," said Cao.
Sun said, however, he is confident that with sustained investment in research and development, Inspur is capable of taking on high-end markets, and so has pledged to increase its R&D spending to 12 percent of annual revenue over the next five years from the current 7 percent.
In recent months, there have been various headline acquisitions by cash-rich Chinese tech giants, in an effort to address their technology shortcomings.
Tsinghua Unigroup Ltd, for instance, is buying stakes in two Taiwan-based chipmakers for 13.5 billion yuan ($2.1 billion), while Lenovo Group Ltd earlier bought IBM's x86 server unit.
"Inspur has no intention of fueling its expansion by acquisition, and will instead be relying instead on development its own cutting-edge technology.
"We have a very different approach when it comes to expansion. We also prefer to sign partnerships to beef up the business," Sun said .
Inspur has maintained steady growth over the past five years, fueled by ongoing domestic demand for information technology products and data analytical services.
Rising concern over data security has also helped the Jinan-based firm gain market share of the government-procurement sector, previously dominated by United States vendors including IBM Corp and Hewlett Packard Enterprise.
According to recent figures from industry consultancy International Data Corporation, Chinese server vendors-led by Inspur and Lenovo-took more than half of that procurement market this year, up from less than a fifth in 2011.