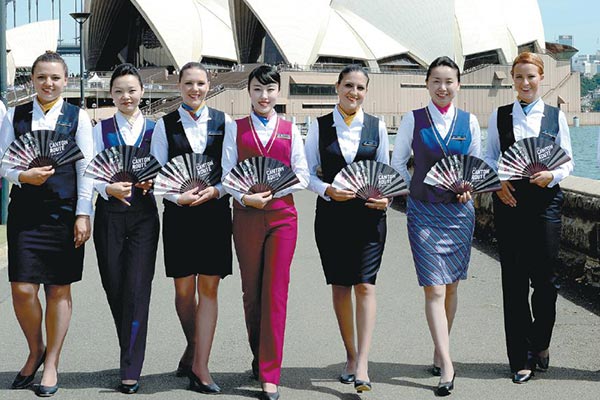 Flight attendants of different nationalities with China Southern Airlines pose for a group photo in front of the Sydney Opera House, a famous landmark in Australia.[Provided to China Daily]
Saturation of domestic market spawns global routes that attract foreign talents
Late November, about 50 Italian young men and women appeared for interviews in Rome for cabin crew jobs with China Eastern Airlines Corp Ltd. Only half of them will likely receive job offers. Yet, everyone was hoping for the best.
"China is the future," said Veronica Goslino, a female applicant from Rome, who was selected in the first round.
The Italian flight attendants will work on the carrier's Shanghai-Rome route after some training in early 2016.
It is the first time that China Eastern recruited in Italy, but recruitment of foreign crews is becoming common for Chinese airlines that operate international flights.
The practice began in late 1990s. Hiring then was still done in China. Now, due to huge demand for such staff, Chinese carriers are recruiting overseas.
For instance, China Eastern hired some of its crew members this year in Japan, South Korea, France, Germany and Italy. It plans to recruit in Australia and Spain in the future, said Liu Kunqiang, head of the carrier's publicity department.
"We expect to bring different faces to our flights through international recruitment," said Wei Bo, deputy director of China Eastern's security department, who handled the recruitment in Italy.
As many as 215 foreign flight attendants are working for China Southern, the largest carrier in Asia in terms of fleet size.
About 40 of them are from Malaysia, who finished their training and reported for duty on Dec 1.
"China Southern Airlines Co will expand the team of our foreign flight attendants at an appropriate time, based on our development and international route demands," said a manager from the carrier's cabin department, who refused to be identified.
Hainan Airlines Co, the fourth-largest carrier in China which flies to 18 international destinations, launched recruitment in Romania, Hungary, the Czech Republic and South Korea in the second half of this year.
More than 1,000 job applications, including from experienced candidates, were received in Romania and Hungary, said Zhao Yuan, deputy general manager of Hainan Airlines's human resources and administration department.
"With our international routes increasing, Hainan Airlines has to deal with the first challenge of offering quality in-flight services, taking into account cultural differences between the East and the West," Zhao said.
That more or less explains carriers' dash to hire foreign flight attendants. Chinese airlines adopt different methods, however, to meet that challenge. Similarly, employment terms differ too.
Although foreign flight attendants and their Chinese counterparts receive the same training, Chinese carriers offer customized contracts to their foreign cabin crews, as per the latter's nationality and labor laws thereof, said Shang Zhao, manager of the in-flight service department of Hainan Airlines.