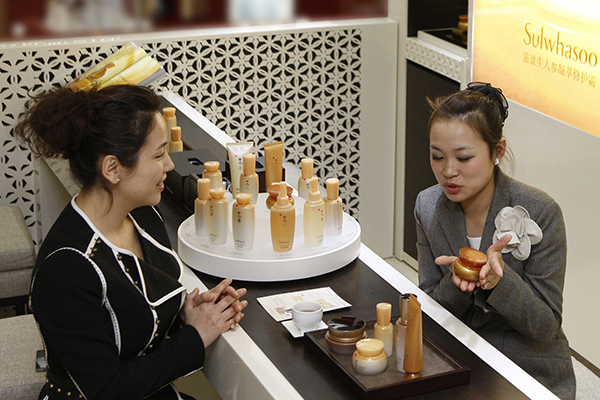 South Korean cosmetics brand Sulwhasoo's counter at a shopping mall in Beijing. [Photo provided to China Daily]
Patronage of Chinese consumers switches to South Korean and Japanese cosmetic brands from European and American labels
An increasing number of Chinese consumers of foreign cosmetic products are switching allegiance to South Korean and Japanese brands from French and US labels.
Of the global beauty and personal care products bought by Chinese consumers in the Past six months, South Korean brands accounted for 47 percent, followed by Japanese labels at 29 percent and French ones at 24 percent, according to Overseas Online Shopping, a research report by Mintel Group Ltd, an independent United Kingdom firm that tracks the global fast-moving consumer goods industry.
Reasons are not far to seek. South Korean brands offer a wide range of products at competitive prices. For instance, Innisfree alone offers more than 2,000 products for in-store experience.
In addition, South Korean cosmetic makers adopt smart strategies like targeting tourists, particularly high-spending Chinese consumers, at airports and malls through duty-free outlets.
From Feb 4, stores of Aritaum, Laneige, Innisfree and Etude in major commercial districts in South Korea even started providing instant cash refund of sales tax to foreign tourists.
What's more, two Aritaum stores in Gangnam and Myeong-dong areas of Seoul opened plush tax refund lounges exclusively for international customers.
Similarly, Japanese brands pamper visiting millions of Chinese tourists every year with high-quality products.
That is not all. The humongous China market is becoming increasingly important for global cosmetics players. South Korean and Japanese cosmetic brands, particularly the former, are aggressive in their efforts to penetrate the China market.
According to South Korea customs, exports of makeup and beauty products to China alone almost doubled to $1.19 billion in 2015, while overall exports rose nearly 53 percent year-on-year to $2.9 billion.
Put differently, China now receives 41 percent of South Korea's cosmetics exports. South Korea's color cosmetics, whose average price is under 300 yuan ($45), sell better in China.
No wonder, AmorePacific Co, South Korea's leading cosmetics and beauty products maker, has a sales network covering more than 350 cities in China. On Feb 26,, it signed an agreement with Alibaba Group Holding Ltd to sell its high-end brands Sulwhasoo and IOPE on Tmall.com this year.
Tmall, Alibaba's e-commerce website, will thus sell AmorePacific's full range of seven brands in China.