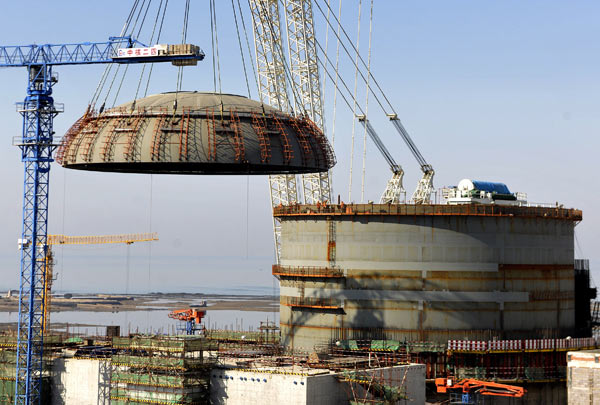 A steel dome is hoisted onto the No 1 reactor at Haiyang nuclear power plant in Shandong province in March. [Photo/Xinhua] 
China General Nuclear Power Group, the country's largest nuclear operator, will list its assets of applied nuclear science and technology on the A-share market to cash in on the country's trillion-dollar industry, a security filing said.
CGN Nuclear Technology Application Co Ltd, a subsidiary of CGN, will become the major shareholder of a listed company, according to a statement filed on Sunday by China Dalian International Cooperation (Group) Holdings Ltd.
Under the deal, China Dalian International will spend 4.2 billion yuan ($645 million) to acquire 479 million shares of seven companies held by CGNAT at 8.77 yuan per share, the statement said.
It will also raise another 2.8 billion yuan from companies including CGNAT and China Dalian International Economic and Technical Cooperation Group Co Ltd through private placement at 10.46 yuan per share, the company said.
When the deal is completed, CGNAT's seven companies will become wholly owned subsidiaries of China Dalian International and CGNAT and their concerted action parties will hold 61.1 percent of stake in China Dalian International, which means that CGN will be the actual holder of the listed company.
CGNAT has promised to generate a net profit from its controlled six companies excluding Shenzhen Woer Heat-Shrinkable Material Co Ltd of no less than 301 million yuan, 381 million yuan and 473 million yuan, respectively, from 2016 to 2018, according to the filing.
CGN already has three listed companies, all of which made their debut in Hong Kong, including CGN Power Co Ltd, CGN New Energy Holdings Co Ltd and CGN Mining Co Ltd.
CGNAT will become its fourth listed company, focusing on radiation processing and new materials, nuclear instrumentation, isotope and nuclear medicine.
Zhang Jianfeng, general manager of CGNAT, said the company plans to lead the domestic market in applied nuclear science and technology through the listing.
"It is good timing to enter the capital market, when the nuclear technology application needs to be updated and consolidated," he said. "The industry has great potential for growth as it has been less tapped compared with the countries such as the United States.
"The reorganized company will benefit from this," he said.
The listing also comes at a time when China, the world's largest energy consumer, has embarked on a huge nuclear construction program at home and plans to export its homegrown nuclear technology.
Experts said applied nuclear technology related to nuclear power, from medical linear accelerator to isotope and radioactive source, will boost a trillion-dollar market and source more funding for the nuclear power sector.
The parent company owned 14 reactors with a combined installed capacity of 14,920 megawatts and has 12 reactors under construction at the end of last year.