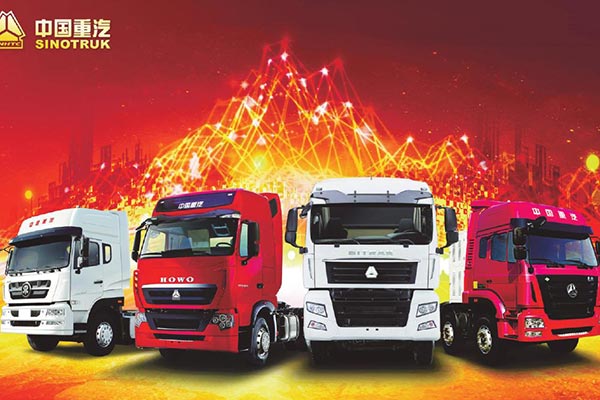 Sinotruk produces high-quality vehicles for domestic and foreign markets.[Photo provided to China Daily]
China National Heavy Duty Truck Group, also known as Sinotruk, achieved double-digit growth in exports last year, in contrast to the slump in sales for most truck manufacturers across China.
"Sinotruk's competitiveness in international markets is taking shape after years of development and sales of heavy-duty trucks in China have garnered strong support from overseas markets," said Ma Chunji, chairman of the Shandong-based company.
"The future of Sinotruk depends on how far it can go in implementing the internationalization strategy."
Chinese truck manufacturers, due to the sluggish global economic recovery and shrinking demand in the market, experienced a drop last year of 27 to 30 percent in sales from the previous year, with approximately 500,000 to 550,000 heavy-duty trucks sold.
Sinotruk, on the other hand, saw a 12.5-percent increase in complete vehicle exports and provided 31,000 trucks to foreign countries, making it the largest exporter of heavy trucks in China for 11 straight years, according to the General Administration of Customs.
The company sold 158,000 vehicles in 2015, including nearly 100,000 heavy-duty trucks, and generated revenue of more than 61 billion yuan ($9.35 billion).
It has a nearly 18 percent of the heavy-truck market share in China, up more than 1.6 percent from 2014.
Sinotruk produced China's first heavy-duty truck in 1960, four years after the company was founded.
The country's largest truck manufacturer by revenue switched to an international outlook in 2004 at a time when China was rarely exporting vehicles, let alone heavy-duty trucks.
It soon created the international brand Sinotruk and in a bid to narrow the gap with foreign competitors, it introduced technologies from Austria. It also began cooperating with the Volvo Car Group that year.
In 2009, Sinotruk established a long-term partnership with German truck maker MAN, from whom the Chinese company obtained a range of advanced technologies, including engine technologies. In January 2013, the Sitrak series of heavy trucks, jointly developed by Sinotruk and MAN, were launched.
As a result of the cooperation, Sinotruk has introduced advanced technologies and manufacturing processes.
It has also gained a better understanding about standards and quality management, said Yun Qingtian, Sinotruk's general quality engineer.
The company develops new products in strict accordance with the system established by its German partner and tests each auto part. Indigenous innovation is also a major priority for the company.
It has invested 20 billion yuan in technological upgrades and product development in a bid to raise the standard of its products to rival those from the world's leading truck makers.