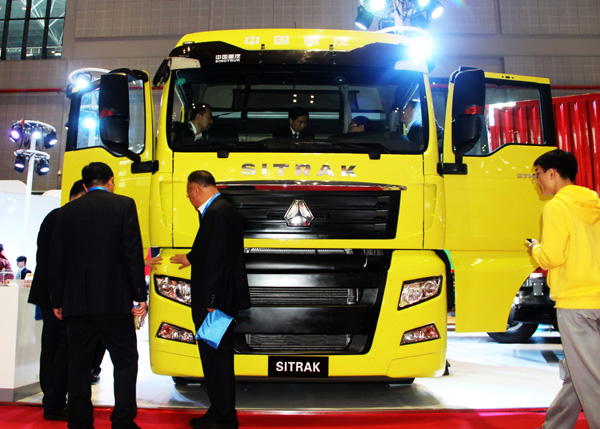 The Sitrak C7H model, a Sinotruk product equipped with an electronically controlled air suspension system, 540-horsepower diesel engine and a smart management system, was a popular exhibit at this year's Shanghai auto show. [Photo/China Daily]
Cooperation with German partner a key factor in firm's success
Despite shrinking domestic and overseas demand, China's major commercial vehicle manufacturer, Sinotruk, still reported a positive performance in the first quarter of 2015, particularly in the overseas market.
Statistics from the China Association of Automobile Manufacturers show that commercial vehicle demand continues to decline, with domestic heavy truck sales down 33 percent in the first quarter from the same period a year earlier.
However, Sinotruk, headquartered in Jinan, Shandong province, sold 43,000 commercial vehicles during the period, including 25,000 heavy trucks, an increase of 1.66 percentage points in market share. The company secured export orders for 10,035 heavy trucks, up by 8 percent, making it the nation's largest exporter in the sector for 10 consecutive years.
"Although the heavy truck industry is enduring a chilly winter, we still retain sales growth in oversea markets thanks to our competitive products and proactive market strategy," said Cai Dong, general manager of Sinotruk.
Cai also attributed the success to the company's smooth cooperation with its German partner MAN SE, a European leading heavy commercial vehicle maker.
When MAN bought 25 percent and one stock share of Sinotruk for 560 million euros ($624 million) in 2009, many in the industry were surprised by both the purchase and the high price paid. Several years later, the move has proved profitable, said Cai.
Benefiting from advanced technologies introduced from MAN, Sinotruk has developed a raft of popular products, ranging from light, medium, heavy-duty trucks, through special-purpose vehicles, to engines that can meet the China V emissions standard, which is equivalent to the Euro V.
"Since teaming up with Sinotruk, we have done a lot to ensure the quality of our products," said Franz Neundlinger, vice-president of Sinotruk Hong Kong, who was previously a senior executive for MAN.
"We send technological personnel to Sinotruk, while more than 200 Sinotruk employees and top managers have been trained in Europe to study MAN's production and management processes," Neundlinger said. "Quality is the key for sustainable success. We are glad to see that Sinotruk did a good job in this aspect."
The two companies' jointly developed products, the Howo and Sitrak series of heavy trucks, have reached an advanced international level.