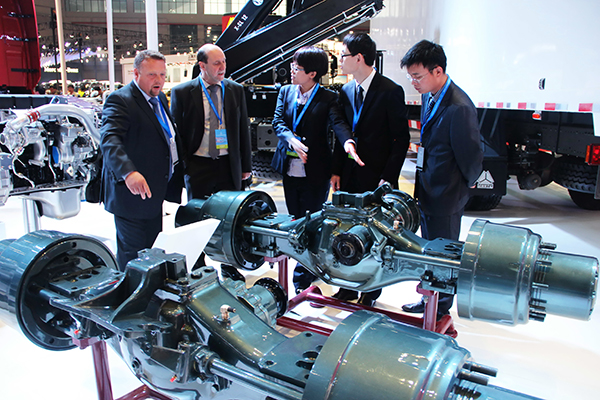 Foreign clients inspect a transmission bridge produced by Sinotruck during a recent auto show in Shanghai. [Photo provided to China Daily]
Sinotruk plans to build warehouses, service centers, assembly lines
China National Heavy Duty Truck Group Co Ltd, or Sinotruk, the country's largest truck manufacturer by revenue, plans to build five spare parts warehouses and service centers in South Africa, the Democratic Republic of Congo and Nigeria this year to keep pace with established European and US rivals in the region.
The Shandong-based company assembles medium-duty trucks in Nigeria, delivers lengthened-chassis to Angola and ships heavy-duty trucks to Ghana. This has helped build for itself a reputation for competitively priced and easily serviceable products, including heavy military off-road vehicles, heavy and light trucks, large and medium-sized passenger cars, minivans, engines and spare parts.
Sinotruk exported 12,470 trucks to Africa in 2015, up 13 percent year-on-year, thanks to growing demand from fast-growing markets like Senegal, Angola, Benin, Mali, Niger, Ethiopia and South Africa. It has exported more than 270,000 finished trucks to African markets since 2010.
Cai Dong, general manager of Sinotruk, said continued foreign and domestic investment in infrastructure, energy and trade development will be vital to supporting economic growth in Africa over the next decade. The Chinese company is now seeking opportunities to build a new assembly line in an East African country.
The Beijing-based China Chamber of International Commerce said that truck sales in Africa accounted for 17 percent of global sales in 2015, driven by an infrastructure boom and the surging consumer goods and logistics demand of more than 1.15 billion people, which offer rich opportunities for Chinese and foreign truck manufacturers.
Cai said it was not easy to gain a foothold in these markets. Logistical issues like ensuring spare parts reached customers on time and setting up adequate number of after-sales branches posed difficulties early on.
Eager to establish a reputable brand image in a new market, the company initially shipped spare parts by high-cost air cargo via airports in Dubai or Qatar to various African country markets. It also invested heavily in regional service centers in major cities such as Lagos, Accra and Dar es Salaam.
"Government procurement is another important growth channel for Chinese automobile companies. In Africa, the biggest consumer is often the local government," said Cai. "If Chinese automobile companies get included in government procurements in Africa, they would stand to gain a lot.
"The majority of African nations are still in the early stages of economic development, and the strategic sectors of infrastructure services, transport and logistics companies are under state control, which means when it comes to buying trucks, the government is one of the biggest customers," said Cai.
However, this is easier said than done. To win a share of the government procurement market, Cai said Chinese companies must continue to increase their own strengths and credibility, as this will create an overall favorable impression.