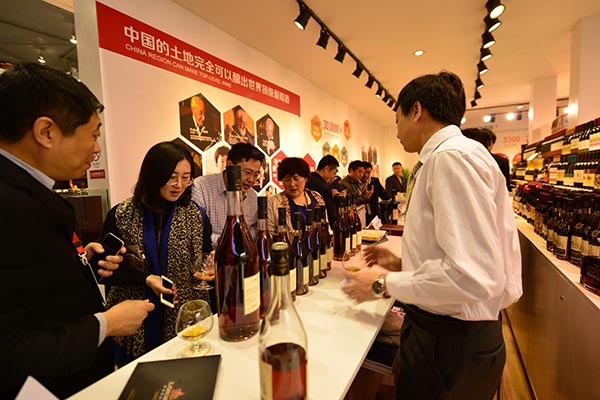 The stand of Changyu Pioneer Wine Co Ltd at an industry expo in Yantai, Shandong province. [JU CHUANJIANG / CHINA DAILY]
Yantai Changyu Pioneer Wine Co Ltd, one of China's largest wineries, has started selling its signature Noble Dragon brand in Spain, the first Chinese wine to hit the market.
Made with a mix of Cabernet Gernischt and Cabernet Sauvignon grapes, it will retail for 10 euros ($11.3). The wine will be available in large food stores and restaurants across the country.
Changyu, based in Yantai, Shandong province, has been actively looking at expanding its market presence in Europe with the purchase of local players and their distribution channels.
Last December, it completed the acquisition of a majority stake in Spanish wine company Marques del Atrio for an undisclosed amount.
Changyu currently sells Noble Dragon in about 3,000 supermarkets across Europe, a number that the company expects to increase with the help of the distribution channels of the Spanish winery.
"It is a great opportunity for us to introduce this wine in Spain, where there are currently 300,000 Chinese residents and many restaurants specialized in Asian cuisine", explained Jesus Rivero, chief executive at Marques del Atrio.
The company, with over a hundred years of history, has a very strong distribution system in Europe and has cooperation agreements with several large European supermarket chains such as France's Carrefour SA and Britain's Tesco PLC to sell its products.
Changyu, which makes over 90 percent of its sales in the domestic market, wants to increase overseas sales of its Chinese and international brands to 30 percent by 2020, General Manager Sun Jian told Reuters during the Noble Dragon launch in Madrid.
Manuel Sanchez Monasterio, member of the ESADE China Europe Club, an association of Chinese companies investing in Europe promoted by Spanish business school ESADE, says he expects similar cross-selling strategies like this to happen in the future.
"It makes sense that Spanish distributors are introducing Chinese food products to cover specific market segments", added Senchez.