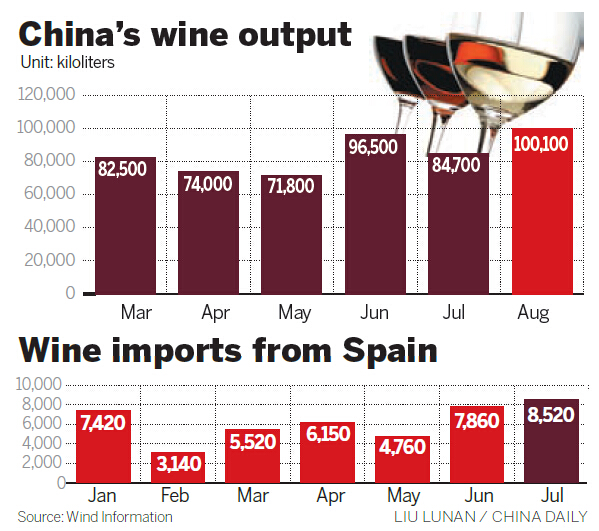 Yantai Changyu Pioneer Wine Co Ltd, a leading Chinese wine producer, has stepped up its overseas moves with the acquisition of Marques del Atrio, a wine company in Spain.
Changyu, which has more than 100 years of history, was established in 1892 by Chinese diplomat Zhang Bishi. Since then, it has made its presence felt at several international exhibitions.
Marques del Atrio products have been sold to more than 40 countries, with overseas revenue accounting for about 55 percent of its total revenue. The Spanish wine company also has close ties with leading global retailers like Carrefour SA and Tesco Plc.
The acquisition follows Changyu's takeover of France-based Roullet-Fransac Cognac in 2013. According to Zhou Hongjiang, general manager of Changyu, the acquisition will further Changyu's globalization strategy. He, however, did not disclose any details on the acquisition price or other terms of the deal.
Responding to questions that Marques del Atrio takes up less than 1 percent of the wine market share in China, Zhou said Changyu will try to change this by introducing more Spanish wine products that are popular in Europe and North America.
"Changyu should possess a number of world famous brands if it wants to become a top-rated winery in the world. Excellent grape-growing regions are not easily available anywhere in the world right now. Changyu must invest more to acquire such resources. Only by having a well-stocked global wine portfolio can the company effectively compete with its peers. They are also important from a long-term growth perspective," said Zhou.
Yan Wei, a senior analyst at Shanghai-based Guotai Junan Securities Co, estimated that Changyu's overseas annual capacity will reach 20,000 tons once the Spanish acquisition is complete.
Holding a global vision and seeking more cooperation in the international market have been the new targets for Changyu in recent years. Five imported wine divisions have been set up in Yantai-Changyu's headquarters-earlier this year to take charge of the investments in the five major wine regions, including France, Spain, Italy, Australia and the United States.
The total volume of imported wine was up 44 percent year-on-year in China during the first seven months of 2015, while the average prices dropped 16.4 percent, according to statistics provided by Shenzhen-based Ping An Securities Co. As the inventory of imported wines accumulated in 2013 and 2014, has been gradually digested, imported wines are expected to see another surge in the next few months, resulting in another increase in prices.