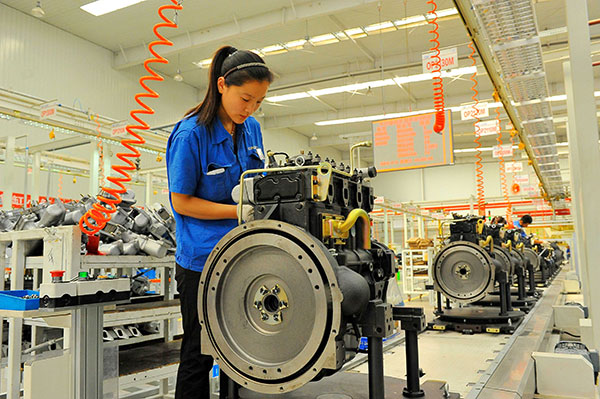 Workers assemble engines at a factory in Weifang, Shandong province. [Photo by Wang Jilin / China Daily]
BEIJING -- The Caixin flash China general manufacturing PMI plunged to a 78-month low of 47.0 in September from 47.3 in August, suggesting continued downward pressure facing the world's second largest economy, a preliminary Caixin survey showed on Wednesday.
The sub-index on manufacturing output retreated to a 78-month low of 45.7 in September from 46.4 in August, according to the survey of Caixin Media Co Ltd.
"The decline indicates the nation's manufacturing industry has reached a crucial stage in the structural transformation process. Overall, the fundamentals are good," said Dr. He Fan, chief economist at Caixin Insight Group.
He pointed out that weakening factory activity is tied to previous changes in factors related to external demand and prices.
The flash index is published on a monthly basis ahead of final PMI data, making it the earliest available indicator of manufacturing conditions in China.
The estimate is based on approximately 85 to 90 percent of total PMI survey responses from over 420 manufacturing companies each month and is designed to provide an indication of the final PMI. The final PMI for September will be released on Oct 1.
The data showed considerable headwinds to growth from soft global demand and the index's focus on export-oriented sectors had been the biggest reason behind its decline in recent months, given the heavy export-related component in the overall order book, according to Qu Hongbin, Chief China Economist at HSBC.
Market sentiment was dampened by the poor flash PMI reading with the benchmark Shanghai Composite Index plunging over 2 percent by mid-day.
China's economy, a key driver of global growth, expanded 7.4 percent last year, the weakest since 1990, and has slowed further this year, growing 7 percent in each of the first two quarters.
China's value-added industrial output expanded 6.1 percent year on year in August, according to the National Bureau of Statistics (NBS). The growth rate was up slightly from 6 percent in July, but still fell short of market expectations.
The decline in output growth ended a steady recovery trend recorded in the second quarter of this year.