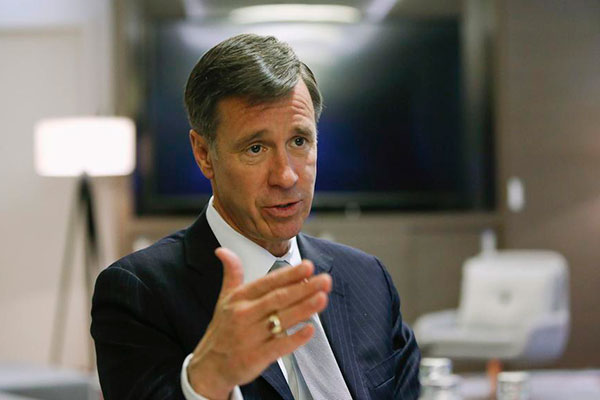 Marriott Chief Executive Arne Sorenson speaks during an interview with Reuters in a hotel in Berlin, March 3, 2015.[Photo/Agencies]
Arne Sorenson, president and CEO of Marriott International, has some advice for Chinese President Xi Jinping and US President Barack Obama when they meet in Washington later this week.
"Let our people bring us closer together," Sorenson said.
The man who runs a leading global lodging company with properties in 81 countries is excited by a recent survey's finding — the country with the highest percentage of people who most want to visit the US is China. Fully 60 percent of the Chinese surveyed by Marriott International selected the US as their top destination.
"I think that's a sign that even though our politics can be complicated at times, even though our government systems are obviously very different, there is a fascination that we have with each other that I think bodes very well for travel between the two countries," said Sorenson, who was appointed by Obama to the President's Export Council in 2013.
Marriott International has seen the number of Chinese guests it receives in the US grow by about 20 percent each year. "We expect that to continue," Sorenson said.
The reciprocal 10-year tourist and business visa extension agreement between China and the US inked last November has been welcomed by the tourism industry. Sorenson wrote after the announcement that "for the industry overall, close to 7.3 million Chinese are projected to travel to the United States by 2021. That is expected to contribute nearly $85 billion a year to the economy and support 440,000 jobs."
"What that means is that we need to make sure we've got Chinese language skills, Mandarin, and the ability there to welcome those guests when they show up," he told China Daily.
China has already become the second-largest market for Marriott International, behind only the US, and Sorenson expects this is going to be the case for some time to come.
"We are doing great in China. We are opening a hotel every two weeks," he said, but he added that conditions differ from city to city, with Shanghai being the strongest market and Beijing among the weakest.
"But we are growing well and we believe the future is going to be quite strong," he said.
Marriott International has 75 hotels running in China, with more under development.
As China's economic slowdown has been making headlines, Sorenson said there are really two aspects to it: The slowdown in exports, which will have zero impact on Marriott, and the slowdown in infrastructure, which does not directly drive demand for hotel rooms.
The slowdown shown in capital investment, such as in real estate, however, could have an impact.
"I suspect we will see fewer new hotel construction starts in the next few quarters…We would guess that there will be a short- and medium-term impact, but long-term, there will be good growth in hotel developments in China," said Sorenson, who joined Marriott International in 1996 and succeeded Bill Marriott, Jr as CEO in 2012, becoming the hotel chain's first CEO whose last name is not Marriott.
Sorenson said in the long run, Marriott International is very bullish on China. "With a growing middle class in China, we see many more people with the resources to travel, and that travel takes place in China, of course, but also abroad," he said.
According to McKinsey research, middle-class citizens will make up 75 percent of China's total urban population by 2022, and the average income for those middle-class families will likely be double their 2012 levels, signaling huge demand for the leisure and travel industry.
Unlike 15 years ago, when most of the guests in Marriott International's hotels in China came from abroad, today an overwhelming majority, including in Shanghai, are Chinese.
Ritz Carlton, JW Marriott, Marriott and Renaissance are making the bulk of their hotels in China today, but the group is also bringing new brands such as Edition and Bulgari to the cities of Shanghai, Beijing and Sanya in the coming years.
Marriott International has also expanded into secondary cities, such as Chengdu and Chongqing in the past two years.