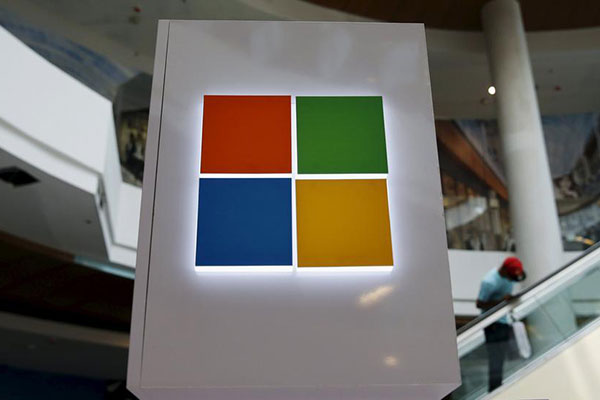 A Microsoft logo is seen at a pop-up site for the new Windows 10 operating system at Roosevelt Field in Garden City, New York July 29, 2015. [Photo/Agencies]
"I was told of all the engineers at Microsoft, China and India each is home to one-third of the entire population," recalls Jackson Hong, just one of the many Microsoft engineers of Chinese origin.
Hong was born in Chengdu, Sichuan province, and immigrated to Canada at the age of 14. After studying and working in Canada for years, he joined Microsoft Redmond in June 2012 as a software development engineer working for the Intune team.
Andy Ran, 32, joined Microsoft directly after graduating from Purdue University in 2008. Working at Microsoft for almost seven years, Ran still loves the company, where he feels valued and respected. He believes it's the kind of place where an employee can realize their potential and get maximum support.
"Nowhere is there more massive, diversified enterprise than at Microsoft," Ran said, "where Chinese science geeks are 'geniuses' who try make a name for themselves in the history of technology."
"All the Chinese American engineers I know, of all ages, are diligent, confident and humble," Ran added.
Of the most famous Chinese Americans at Microsoft, both Hong and Ran mentioned "The Big Two": Qi Lu and Harry Shum.
Qi Lu
Qi Lu, the first Chinese American to serve as executive vice-president at the software giant, is currently executive vice-president of the applications and services group, leading Microsoft's business across productivity, communications, education, search and other information services. He sets the vision, strategy and overall direction of the group, and is responsible for all of the research and development teams across Microsoft Office, Office 365, SharePoint, Exchange, Yammer, Lync, Skype, Bing, Bing Apps, MSN and the Advertising platforms and business group.
The most often heard rumors about Lu are that he wakes up at 3 am, often works until 10 pm and only wears jeans and a T-shirt.
Born in Shanghai, Lu studied at Fudan University in Shanghai, China. After attending a talk by Carnegie Mellon professor Edmund M. Clarke, Lu was invited to apply for a PhD at Carnegie Mellon. In 1996, Lu graduated with a PhD in Computer Science from Carnegie Mellon.
Prior to joining Microsoft, Lu spent 10 years as a senior executive at Yahoo. His roles included serving as the executive vice-president of engineering for the company's search and advertising technology group, where he oversaw the development of Yahoo's web search and monetization platforms, and vice-president of engineering responsible for the technology development of Yahoo's search, e-commerce and local listings of businesses and products.
He left Yahoo in August 2008 and thought about a start-up in China. But Microsoft CEO Steve Ballmer called him and asked him to consider taking over Microsoft's online operations. "He's absolutely the best guy on the planet to run a search business," Ballmer said.
Lu's mantra is, "Have your head above the clouds but your feet on the ground."
Harry Shum
Harry Shum is the second Chinese-American engineer in Microsoft history to assume the role of executive vice-president. Previously he had led Bing product development as corporate vice-president.
Born in Nanjing, China in 1966 and with a doctorate in robotics from Carnegie Mellon University, Shum joined Microsoft Research in 1996, where he worked as a researcher on computer vision and computer graphics. In 1999, Shum moved to Beijing to help start Microsoft Research China (later renamed Microsoft Research Asia). His tenure there began as a research manager and subsequently moved up to assistant managing director, managing director of Microsoft Research Asia, distinguished engineer and corporate vice-president. In 2007, Shum became Microsoft corporate vice-president responsible for Bing product development.
Shum is an Institute of Electrical and Electronics Engineers fellow and an Association for Computing Machinery fellow. He served on the editorial board of the International Journal of Computer Vision, and was a program chair of the International Conference of Computer Vision in 2007. Shum has published more than 100 papers in computer vision, computer graphics, pattern recognition, statistical learning and robotics. He holds more than 50 US patents.
Another name well-known among the Chinese-American engineers is Xuedong Huang, who is best known for founding and leading Microsoft's speech recognition initiatives. He is also known for his pioneering work on Microsoft's multimodal interactive MiPad prototype that Bill Gates demonstrated at the Consumer Electronics Show in his keynote speech in 2001.
Huang grew up in Hunan, China and became a US citizen in 1995. He received his BS degree in computer science from Hunan University in 1982 at the age of 19, his MS in computer science from Tsinghua University in 1984, and his PhD in Electrical Engineering from University of Edinburgh in 1989.
He joined Carnegie Mellon University in 1989 and worked with Raj Reddy and Kai-Fu Lee on speech recognition. At CMU, Huang directed Sphinx-II speech system research and had the best overall performance in every category of DARPA's 1992 benchmarking. He received the Allen Newell research excellence medal for his leadership in speech recognition in 1992, and IEEE Speech Processing Best Paper Award in 1993. He became an IEEE Fellow in 2000.