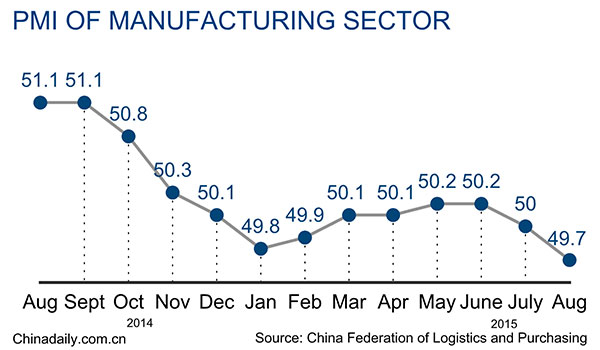 BEIJING -- China's factory activity continued to lose steam in August, suggesting the world's second largest economy faces prolonged downward pressure, official data showed Tuesday.
China's manufacturing purchasing managers' index (PMI) came in at 49.7 in August, down from 50 for July, according to data released by the National Bureau of Statistics (NBS) and the China Federation of Logistics and Purchasing.
A reading above 50 indicates expansion, while that below 50 represents contraction.
The index fell into contraction territory for the third time this year, and the August reading was the lowest since August 2012.
The production sub-index posted 51.7 last month, still expanding, but lower from 52.4 for July. The sub-index for new orders came at 49.7, down from 49.9 for July, indicating grim challenges in demand.
"Growth momentum was weak in the manufacturing sector," said NBS statistician Zhao Qinghe, attributing the PMI decline mainly to the phasing-out of traditional manufacturing, bad weather caused by El Nino, air pollution controls around Beijing, and low commodity prices.
Despite the dreary signs, Zhao said signs of improvements have emerged with steady growth in high-end manufacturing and consumer goods production.
However, other analysts were less optimistic after a private survey said manufacturing PMI was 47.3 in August, much lower than the official line, according to a survey by financial information service provider Markit and sponsored by Caixin Media Co. Ltd.
Qu Hongbin, chief China economist at HSBC, said the private PMI indicates that China's external and internal demands remain sluggish and deflation risk is considerable.
"The Chinese economy is spiralling down, with a murky outlook," said Qu, adding that it was necessary for policymakers to continue monetary easing and expansionary fiscal policy.
Related:
Li looks to overhaul manufacturing sector
By Zhao Yinan(China Daily)
Premier says nation must 'make up for missing lessons' in development
Premier Li Keqiang is considering adopting pioneering technologies to upgrade low value-added domestically made products as China faces weakening activities in the manufacturing sector that threaten the country's rise.
At a State Counci session on Friday, Li, vice-premiers, state councilors and more than 100 officials from China's Cabinet and heads of State-owned enterprises listened to an hour-long lecture on three-dimensional printing and modern manufacturing.
Lu Bingheng, a scientist from Xi'an Jiaotong University who specializes in machinery manufacturing and automation, was the lecturer.
Afterward, Li said China has to "make up for missing lessons" in industrial development, which is large in terms of volume, but lacks competitiveness.
"If we want to make made-in-China products to compete with commodities from Japan, Germany and the United States, we need creative perceptions," he said.
Li said 3-D printing opens up thoughts on the development of not only manufacturing, but of other sectors.
"China is not rich in natural resources. Sometimes they are even lower than the world's average level, and additive manufacturing can offer a revolutionary change to ways of production.
"Making additions also applies in other sectors. For instance, by integrating the Internet with industrial production, we have accumulated wisdom, altered the way of marketing and made institutional breakthroughs," he said.
Li said a technological revolution is ongoing, and many countries have spared no effort in seizing opportunities in industrial development.
"The stabilization and upgrading of the Chinese economy requires industrial restructuring and a new driving force, in which intelligent manufacturing could be the key," he said.
Purchasing Managers Index, a main gauge of manufacturing activities, fell to 47.1 in August, the lowest level since March 2009, according to a preliminary reading of the Caixin PMI, signaling a deep contraction in the sector.
Another index measuring the final value of industrial production-value-added industrial output-expanded by 6 percent in July year-on-year from 6.8 percent in June.
In March, China unveiled ambitious plans to upgrade its manufacturing power in the next 10 years. The program, called Manufactured-in-China 2025, calls for greener and intelligent manufacturing, with the emphasis on quality and deeper integration with the Internet.
The aim is to transform labor-intensive domestically made products into those with higher value.
Lu, the lecturer, said: "It is not easy to give a lecture to top leaders. I have to condense the essential knowledge as well as in-depth analysis of a field in less than an hour," adding that he revised the script at least three times.
Comparing the strengths and deficiencies of modern manufacturing among Germany, the US and China, Lu said China has a relatively complete industrial system and a huge domestic market with abundant human resources.
The Germans are known for a solid industrial foundation and rigorous technique, while the US is competitive in high technologies, innovative ideas and the ability to attract global talent, he said.
Friday's lecture was the first of its kind for State Council officials.