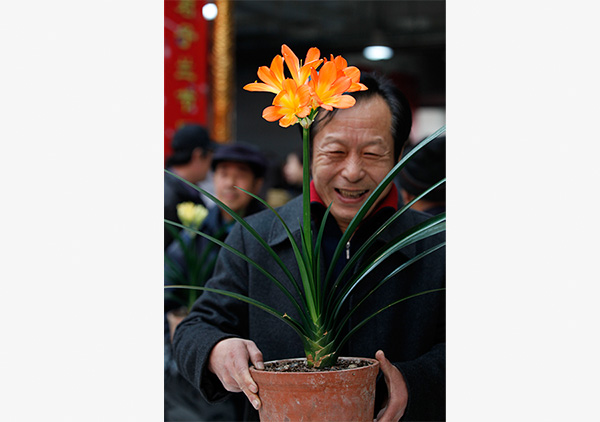 A local resident in Changchun, capital of Jilin province, holds a clivia flower, which he cultivated for 15 years, at the 8th Clivia Festival in the city. [Photo provided to China Daily]
Some precious goods in China once boasted massively high prices due to market frenzy, but now they have suffered huge price drops due to dampened demand.
Clivia
The clivia, which is native to South Africa, is highly appreciated in China just like tulip in the Netherlands. The clivia boasted a price of more than 10,000 yuan ($1,570) or even more than 100,000 yuan for a pot in the 1980s.
Changchun, the capital of Jilin province, in northeastern China, named the clivia as its city emblem in 1984. The local government called for every household to put several potted clivia on their windowsills, and it became a colorful addition to the local landscape.
The popularity of the plant prompted the price to flare. The price once doubled within a few minutes in Changchun. Later, the government had to put a price limit on clivia, and its price plummeted about 100-fold.
Clivia has been a precious flower in China for decades as it used to be cultivated mostly in royal gardens, and it symbolizes virtue and wealth. Clivia blooms once a year, and has a life span of several decades.
Twenty years later, the price of clivia and orchids has proliferated and plunged again in China.
In 2011, a pot of clivia named "oriental pearl" was purchased by a man in his 60s from Jilin province at an auction for 1 million yuan. He hoped to sell the pollen and the buds to make a profit, but a pot of clivia is worth less than 100 yuan now.