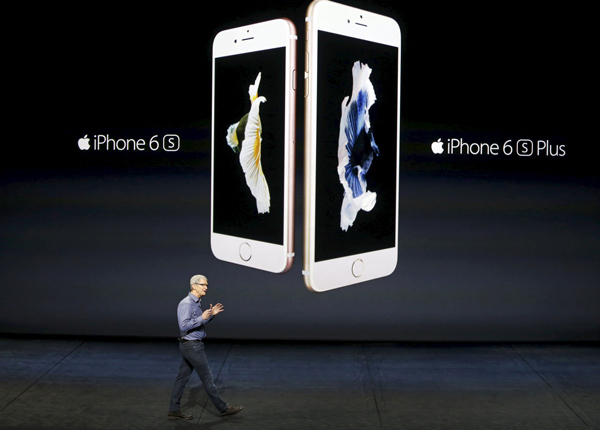 Apple CEO Tim Cook introduces the iPhone 6s and iPhone 6sPlus during an Apple media event in San Francisco, California, September 9, 2015. [Photo/Agencies]
Apple Inc is predicting initial sales of its new iPhones will top last year's opening-weekend record, thanks largely to demand in China.
Preorders for iPhone 6s and 6s Plus were "very strong" and sales are on pace to exceed last year's launch-weekend record of 10 million handsets, Apple said on Monday.
The devices, unveiled at an event in San Francisco last week, will hit stores on Sept 25. The strong demand was aided by orders from China, which this year was added as one of the countries to sell the smartphone at its introduction.
Gene Munster, an analyst at Piper Jaffray Cos, said orders may be roughly flat if customers in China were not included in the initial availability. Munster is predicting opening-weekend sales of as many as 13 million units, with China accounting for about 2 million shipments.
Maintaining healthy demand for the iPhone is critical for Apple, which got more than 60 percent of its revenue from the handsets in recent quarters.
Analysts have questioned whether the new models will be able to match the success of last year's record-setting release, when the company overhauled the design of the device with bigger screens.
Walter Piecyk, an analyst at BTIG in New York, said the early figures "should not be taken as strong evidence" that iPhone sales will exceed last year's record output.
Apple shares rose 1 percent to $115.31 on Monday in New York. The shares have fallen 12 percent since July 21, when Apple released financial results that were lower than analysts anticipated, sparking concerns about the company's ability to keep up its torrid growth year after year.
An economic slowdown in China, the company's second-biggest market after the United States has added to the investor hand-wringing.
Unlike last year, when Apple said it sold more than 4 million units during the first 24 hours of orders, the company did not give numbers this year.