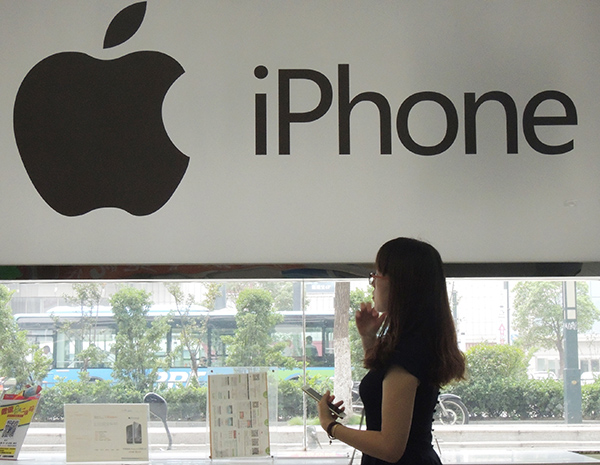 A customer at a smartphone store in Lianyungang, Jiangsu province, on Monday. [Photo/China Daily]
Some of the best hospitals in China are notoriously difficult to get into.
The reason is simple: A lack of top-notch doctors is failing to keep up with demand from patients, who as a result are now being forced to travel all over the country to find the best medical advice. Queuing has become the norm, often starting in the middle of the night.
But getting urgent help in China isn't restricted to our own bodies.
The health demands are just as acute for the other most important aspect of our daily lives-the well-being of our mobile phone.
I recently set out on what proved to be just as long a mission to get my iPhone mended.
At first, I didn't think finding help for my expensive, yet poorly functioning device which I bought six months ago would take much effort.
After all, Apple has in place its very own patient support system: Its Genius Bars-tech support stations located inside retail stores (there are four Bars in Beijing), which are purpose-built to offer help and support to both the owners of, and the sick Apple products themselves, or in other words, the company's very own accident and emergency department.
"Have a problem with your Mac, iPod, or iPhone? Stop by Genius Bar at an Apple retail store for hands-on diagnosis and troubleshooting," the website told me.
Armed with that comforting knowledge, I went online to book an appointment with my local Geniuses-only to be told there were none available.
Bear in mind, our mobiles these days are nearly as vital as our major organs. So panic quickly set in.
"This is the only phone I own," I heard myself saying. "If it doesn't work, then neither do I."