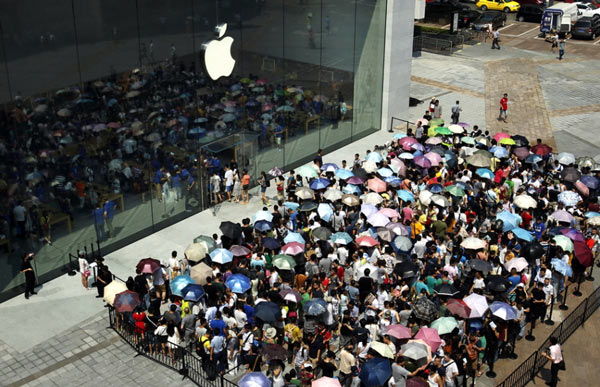 Apple opens a new store in Southwest China's Chongqing municipality on Saturday, July 26, 2014, bringing the number of Apple stores in the Chinese mainland to 11. [Photo/IC]
Strong momentum in China is behind Apple's record increase in transactions, said senior vice president of Internet software and services Eddy Cue in an interview with CNBC on Thursday.
"We are seeing more customers in China going to the App Store," he said.
Contrary to what some analysts have claimed after the tech giant recorded sharp fall in earnings in late July, Cue said that Apple's business in China is booming.
Its App Store saw a record $1.7 billion in transactions in July. According to CNBC, Cue attributed that success in part to strong momentum in China, where the App Store set a new record in customer number.
He also said that the average spend per iPhone user in China continues to increase and the company has some one million developers in China, a sign that Apple continues to build and strengthen its ecosystem there.
"In its last reported quarter, the company said revenue in Greater China dropped 21 percent sequentially, which concerned investors," said CNBC.
Apple Inc's iPhone sales grew 85 percent in China, with revenue jumping to $13 billion for the latest quarter that ended June 27, according to the company.
"We remain extremely bullish on China and we are continuing to invest," Apple CEO Tim Cook said at the earnings announcement. "We would be foolish to change our plans. I think China is a fantastic geography with an incredible, unprecedented level of opportunity."
The market share of the US tech giant has been overtaken by domestic rivals Xiaomi Inc and Huawei Technologies Co Ltd in the second quarter of 2015, according to data released this Monday by Canalys, a mobile market research firm.
Xiaomi, headquartered in Beijing, holds a 15.9 percent market share, according to Canalys estimates. Shenzhen-based Huawei, which Canalys said is the fastest-growing vendor in the top 10 at 48 percent sequentially, has a 15.7 percent share.
Apple came in third, followed by Samsung and Vivo.