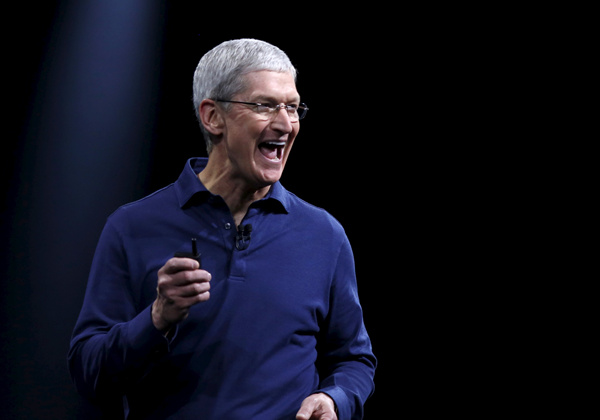 Apple CEO Tim Cook delivers his keynote address at the Worldwide Developers Conference in San Francisco, California June 8, 2015. [Photo/Agencies]
Apple Inc's Chief Executive Tim Cook took an unusual step of reassuring shareholders on Monday in comments to CNBC about the iPhone maker's business in China ahead of a dramatic 13 percent drop and rebound in its stock that put it in positive territory.
Chinese consumers are critical to fueling demand for iPhones, and a slump in the country's stock market and Beijing's recent devaluation of the yuan have shaken Apple investors already worried about slowing growth in the world's No. 2 economy.
With Chinese stocks plunging close to 9 percent earlier on Monday, Cook took the rare step of commenting on the health of Apple's business midway through a financial quarter. Before the opening bell on Wall Street, he wrote in an emailed response to questions that iPhone activations in China had accelerated over the past few weeks.
He also said the App Store in China had its best performance of the year over the past two weeks.
"Obviously I can't predict the future, but our performance so far this quarter is reassuring. Additionally, I continue to believe China represents an unprecedented opportunity over the long term," Cook wrote. (http://cnb.cx/1hCtRMl)
In the early minutes of trade, Apple shares slumped as much as 13 percent to a year-low of $92 amid a selloff in the broader U.S. market. But in a little over two hours they reversed those losses to trade up 2.25 percent at $108.12, adding around $85 billion to Apple's market capitalization from its earlier low.
That helped the Nasdaq composite and the S&P 500 index pull away from deep losses that had put them into correction territory.
"The fact that (Cook) publicly gave some positive signs around what Apple is seeing out of China during this market meltdown is a huge sigh of relief for investors who have started to have nightmares about what China can become over the coming years for Apple," said FBR analyst Daniel Ives.
Apple's success over the past decade has made it a top holding for many portfolios and it accounts for 3.5 percent of the S&P 500, indirectly affecting millions of investors saving for their retirements through passively invested index funds.
Many on Wall Street remained cautious about risks Apple faces in China's potentially stumbling economy. After Monday's rebound, Apple's stock was still down about 19 percent from its record high close set in February.
"I am concerned about a slowdown in Apple's demand from China and I think they haven't even seen the extent of it yet," said Cowen and Company analyst Timothy Arcuri.
Such fears were exacerbated last week after a Gartner report said smartphone sales in the country fell for the first time ever in the previous quarter.
China's smartphone market is widely believed to be close to saturation with fewer first-time buyers, although Apple has continued to gain market share there.