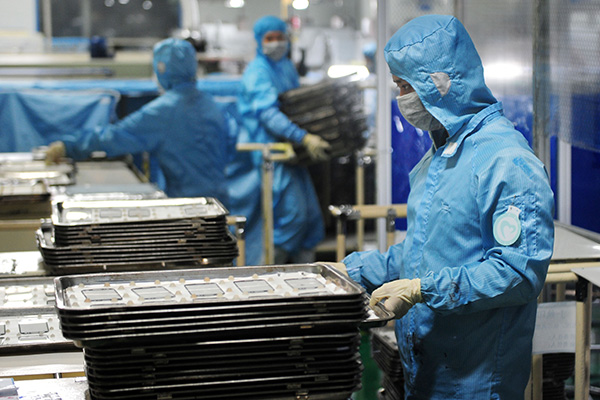 Workers on a smartphone touch screen production line at a factory in Liuyang, Hunan province. [Photo provided to China Daily]
Component firms are being squeezed by domestic brands and cut-throat pricing war
High-tech Chinese companies that make components for major global smartphone brands, such as Samsung, Apple and Nokia, are struggling to stay afloat.
Hit by dwindling profits, original equipment manufacturers, or OEMs, have faced a tough operating climate since the end of last year.
"Most Chinese electronics companies are now living at the very bottom of the industrial chain, despite decades of development," Liang Zhenpeng, an independent senior home appliances and IT analyst in Beijing, said. "They live on meager profits."
"What is worse, they are totally reliant on one single customer, which means they will find it very hard to carry on once the market declines," Liang added.
The depth of the downturn for OEM companies, which are mainly based in the Pearl River Delta and Suzhou in Jiangsu province, is starting to reach a critical point.
They are being squeezed by cheap domestic smartphone brands that manufacture their own components, stagnant mobile sales in China and the rest of the world, and cut-throat price cutting.
To illustrate the extent of the slump, Honghui Technology Co Ltd in Suzhou, which used to be a major supplier of Nokia Co and makes touch screens, once had a 10,000 strong workforce a few years ago. Last November, it laid off most of its employees and suspended production after Nokia revamped its struggling global smartphone business.
A month later, Wintek Corporation, the largest liquid crystal display, or LCD, manufacturer in Taiwan, shut down two of its subsidiaries in Dongguan in South China's Guangdong province.
The decision was quickly followed by the announcement that Wintek's subsidiary in Suzhou, which used to be the largest OEM in the city, would also close. Nearly 10,000 workers were made redundant by the move, with the fallout rippling through the entire industry.