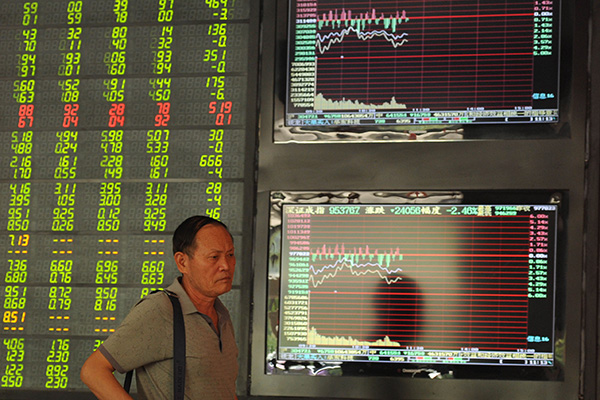 An investor at a brokerage in Fuyang, Anhui province. The benchmark Shanghai Composite index dropped 3.52 percent on Tuesday. [Photo provided to China Daily]
Chinese equities fell sharply on Tuesday after the country's securities watchdog stepped up its crackdown on illegal margin financing by shutting down thousands of stock trading accounts.
The benchmark Shanghai Composite Index dropped 3.52 percent, or 109.63 points, to close at 3,005.17.
The index had slipped below the psychologically-sensitive level of 3,000 points in afternoon trading before recovering.
The Shenzhen Component Index, which tracks smaller stocks, suffered an even heavier loss, tumbling by 4.98 percent, while ChiNext, the index tailored for small cap and growth companies, slumped by 5.7 percent.
More than 700 stocks in both Shanghai and Shenzhen plunged by the 10 percent trading limit.
Tuesday's sell-off came after the China Securities Regulatory Commission said in a statement on Monday evening that it has shuttered 3,225 stocks accounts involved in illegal margin financing and leveraged trading.
Another 2,094 accounts suspected of illegal trading remain to be checked, the regulator said.
These accounts hold shares worth total market value of nearly 188 billion yuan ($29 billion), according to the CSRC.
While the regulator claimed the crackdown on illegal financing will unlikely have an "obvious impact" on the market, investors sought temporary safe haven from the ongoing market turmoil by cleaning up their positions.
Concerns about the effectiveness of the government's measures to shore up the slowing Chinese economy, meanwhile, weighed on international investor sentiment, causing knock-on ripples in global markets too.
"A hard landing is certainly a risk but it can be averted as the Chinese authorities have abundant policy capacity, both fiscal and monetary, to support growth," said Tim Condon, chief Asia economist at ING Bank.
Uncertainties over China's economic outlook and the US Federal Reserve's possible hiking of interest rates have been the major destabilizing factors for financial markets around the world.