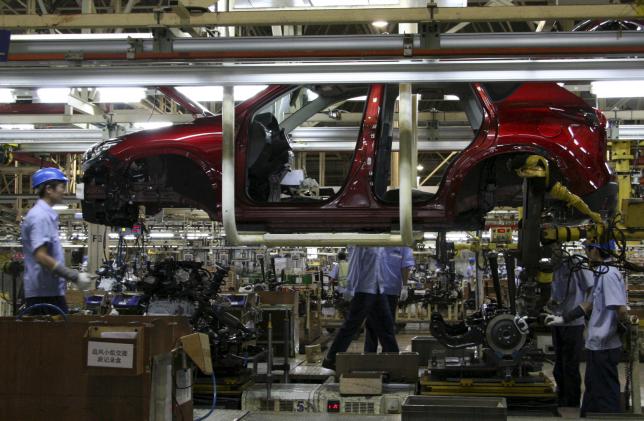 A Mazda Cx-5 is seen in production inside the Changan Mazda factory in Nanjing, Jiangsu, July 6, 2015.[Photo/Agencies]
Growth at China's big manufacturing companies unexpectedly stalled in July as demand at home and abroad weakened, an official survey showed on Saturday, reinforcing views that the economy needs more stimulus as it faces fresh risks from a stock market slump.
The official Purchasing Managers' Index (PMI) stood at 50.0 in July, compared to the previous month's 50.2. The 50-point mark separates growth from contraction on a monthly basis.
Analysts polled by Reuters had predicted another tepid reading of 50.2, pointing to expansion, albeit a sluggish one.
However, both export and domestic orders shrank for the large firms covered by the survey, and in response they continued to cut jobs.
It did not mention any impact from a savage 30 percent drop in stock markets since mid-June, though analysts said wild price swings could hit consumer and business confidence and investment decisions, adding pressure on the already cooling economy.
"It warrants more concrete policy measures to stabilize the real economy. Perhaps the funds used to prop up the share market could be used to support the real economy," ANZ economists Li-Gang Liu and Louis Lam said in a research note.
ANZ maintained its forecast that the central bank will cut interest rates by another 25 basis points (bps) this quarter and reduce banks' reserve requirements by 50 bps by year-end.
The government has rolled out a flurry of steps since last year to try to put a floor beneath sputtering economic growth, including accelerating infrastructure spending and repeated reductions in interest rates and banks' reserve ratio. But growth is still expected to moderate this year to around 7 percent, the slowest in a quarter of a century.
The statistics bureau said the weaker reading was partly due to the weather, as hot temperatures and heavy rain led some firms to reduce production and carry out maintenance.
"The recent fall in prices of oil and other commodity products also affected related industries," it added.
A preliminary, private Caixin/Markit survey last month showed activity at smaller factories contracted by the most in 15 months.