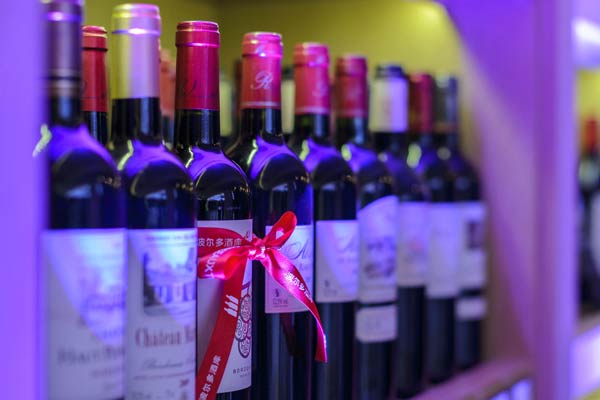 Wines displayed in la Bordeauxthéque at its grand opening party, in the newly-launched French department store Galeries Lafayette, in Beijing on Feb 27, 2014. [Photo/chinadaily.com.cn]
Wine consumption in China rose by 5.6 percent last year compared with 2013, despite a gloomy political and economic situation for the market, a research report said on Wednesday.
A total of 1.94 billion bottles of wine were drunk in China last year, or 1.43 bottles per capita, and the market has great potential, the report said.
Issued by the Wine Academy at Northwest Agriculture and Forestry University in Yang-ling, Shaanxi province, the report said the Chinese market has entered an era of mass consumption and fast growth.
Wang Zuming, secretary-general of the China Alcoholic Drinks Association's wine branch, said, "It means the proportion of high-end wines is shrinking and mid-and lower-range wines are gaining ground.
"In the past, Chinese spent more on expensive wines than cheaper ones for business reasons, or handed them out as presents," Wang said, adding that the situation has been reversed.
"We can expect the Chinese market to double soon, as we have seen strong consumption growth in the country's major cities and in coastal cities," Wang said.
Sergio Maffettone, the Italian consul-general in Chongqing, said his country is benefiting from changing wine consumption patterns in China, with Chinese now enjoying wines with food, just like Italians.
"We organize wine-tastings and classes on how to drink wine. ... We are even thinking about pairing Italian wine with Sichuan hotpot."
Beginning this year, wines from Chile are exempt from tariffs, while those from Australia will also enjoy zero tariffs in the coming three years, thanks to free trade agreements signed by both countries with China.
Hao Linhai, head of China's most prominent wine region, the Helanshan East Valley in the Ningxia Hui autonomous region, said the region will work on improving the quality of its wine in the long term to secure its place in the market.