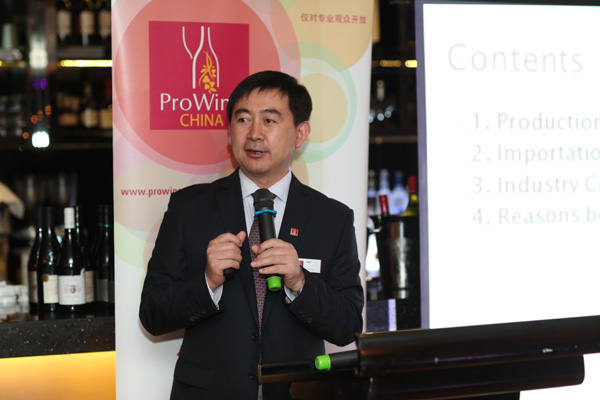 ProWine China is a unique platform for the Chinese wine industry and this offer does not end after the opening hours of the show. [Provided to chinadaily.com.cn]
• 650 exhibitors from 38 nations
• Numerous new country pavilions and exhibitors to discover
• Expand knowledge through seminars by high-class institutions such as IMW and WSET and meet industry leaders like Professor Li Demei, Lisa Perrotti-Brown and many more
With only 15 days to go, Nove 12 to 14 will see the second edition of ProWine China taking place in hall N3 and N4 in the Shanghai New International Expo Centre (SNIEC). This year even more industry leaders and well known professionals of the international wine and spirits industry will gather at ProWine China. This makes the number 1 specialized wine exhibition in Mainland China an event not to be missed by trade visitors from both the on-trade and the off-trade.
Unsurpassed diversity: More exhibitors – new countries
ProWine China 2014 will feature an additional exhibition hall, thus increasing the total exhibition area by 50 percent. More than 650 wine and spirits exhibitors from 38 wine-producing nations take part in the show. The countries that provide the highest number of exhibitors are France, Argentina and Spain. In total, ProWine China 2014 will host 19 national and 3 regional pavilions, a number unsurpassed by any other wine and spirits trade fair in China. Several of those participations make their debut at the show, e.g. New Zealand. Next to famous wine producing regions, the show will also feature first-time exhibitors from emerging wine regions such as Macedonia and Serbia.
Numerous leading wine producers from all around the world take part in ProWine China 2014, such as the largest Italian wine group Gruppo Italiano Vini (GIV), Grands Chais de France (France), Sogrape (Portugal), CASTEL (France), Felix Solis Avantis (Spain), Jackson Family Wines (USA), Lenz Moser (Austria), Henkell & Co Sektkellerei (Germany), BONFILS (France), Codorniu (Spain), and many more.
The exhibitors at ProWine China present a wide portfolio of high-class wine and spirits including speciality products, for example the "Hello Kitty" sparkling drink for children. German producer ZGM (Zimmermann-Graeff & Müller) offer this alcohol-free party drink in two flavours: ripe berries and apple-peach.
A Pool of Knowledge and a Meeting Place for Industry Leaders
In addition to presenting high-class exhibitors from around the world, ProWine China puts focus on providing high-quality wine education and training in China.
The "ProWine China Education Offensive" consists of a series of educational activities and events taking place all through the exhibition. Here, visitors have the unique opportunity to not only expand their knowledge but also meet famous industry leaders who share their experience.
As one part of the "ProWine China Education Offensive" the first ProWine China Industry Summit takes place on the second day of the show (Nove 13) right on the fairground. The highly-respected Professor Li Demei serves as the host of this event. The summit will focus on wine investment opportunities and market trends and will be divided into two parts. The morning will feature speeches by Professor Li Demei and Lisa Perrotti-Brown, Editor in Chief for "Robert Parker's Wine Advocate". While Mr. Li will give an overview of the Chinese wine industry and opportunities for foreign investment from a Chinese viewpoint, Lisa Perrotti-Brown will speak on opportunities and pitfalls for foreign investment in the Chinese wine growing industry from an international perspective. At the second part of the summit, the afternoon will see Judy Chan, the Chief Executive Officer of Grace Vineyard, holding a speech on wine marketing for Chinese and international wines in China, followed by a panel discussion on the topic of expanding online marketing and sales of wine and spirits.
Master Classes organized by the renowned Institute of Masters of Wine – held by Hong Kong based Debra Meiburg MW and Annette Scarfe from Singapore – as well as the WSET Forum also contribute to the "ProWine China Education Offensive". During the three-day WSET Forum, which is organized by WSET (Wine & Spirit Education Trust) in partnership with ProWine China, professional wine lecturers from China and the UK hold educational wine courses on a wide selection of topics.
Rounding up the educational series, the ProWine China Forum offers visitors a great variety of wine education activities. Many exhibitors hold specific seminars such as Debra Meiburg MW who will be discussing the mysteries of German wine, whilst senior wine consultant, WSET mentor and wine critic Fongyee Walker will take visitors on a wine tour of Hungary. In addition, RVF China will discuss the characteristics of Chinese wine by inviting guests to a Chinese wine tasting with samples from Xinjiang and the Yanhuai basin and renown Asian wine critic and writer Ch'ng Poh Tiong will introduce the perfect combinations of wine and Chinese food.
High-Class Evening Event on Nove 13th
ProWine China is a unique platform for the Chinese wine industry and this offer does not end after the opening hours of the show: On the second day of ProWine China, an exclusive get together under the name of "ProWine in the City" will be held at The Westin Bund Center (beginning 7.30 pm). Trade professionals and wine enthusiasts will have the chance to taste 150 wines from the international exhibitors in a wide ranging tasting zone together with selected food. A live band will round up the relaxing and elegant atmosphere of this unique event.
Detailed information on ProWine China's exhibitors and educational program and on "ProWine in the City" as well as tickets to both the trade show and the evening event are available at www.prowinechina.com and www.prowine-inthecity.com. ProWine China is for trade visitors from the on-trade and off-trade only, whereas "ProWine in the City" tickets are also available for wine enthusiasts. ProWine China takes place in hall N3 and N4 at Shanghai New International Expo Centre (SNIEC) in Pudong and is open from 9.30 am to 5.00 pm on Nove 12 and 13, and from 9.30 am to 4.00 pm on Nove 14.
ProWine China is a sister event from the world leading trade fair for wines and spirits – ProWein in Düsseldorf (Germany). ProWine China is organized in partnership by Messe Düsseldorf Group and China International Exhibitions Ltd, a member of the Allworld Exhibitions network. The wine exhibition is held alongside FHC China, the country's leading trade fair for imported food.