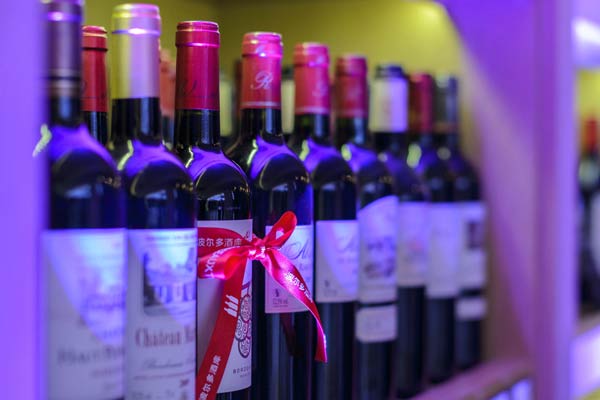 Wines displayed in la Bordeauxthéque at its grand opening party, in the newly-launched French department store Galeries Lafayette, in Beijing on Feb 27, 2014. [Photo/chinadaily.com.cn]
More students are gaining a taste of French culture and country's wine industry, reports Agence France-Presse from Bordeaux.
Wu Zhiyi has come a long way since he first sipped-or rather chugged-a glass of wine. Back then it was mixed with soda.
Now, after two years in the French city of Bordeaux, the 23-year-old Chinese student can distinguish different varieties of grapes just by swirling a glass under his nose.
Wu is part of a young crop of Chinese flocking to the southwestern region, France's largest wine-growing area, to train for careers in the wine trade-a burgeoning industry in China.
"Ten years ago, it was novel for a Chinese person to work in wine. Today, it is a sector like any other, ripe for business," said Laurent Bergeruc, director of INSEEC business school known for its wine and spirits program.
The number of Chinese students at INSEEC has grown so steadily in the past decade that Bergeruc now has to turn applicants away.
In INSEEC's wine marketing division alone, 13 percent of the students are Chinese.
In some other schools, the percentage is vastly higher. At Wu's school, Cafa, a private establishment that trains for the hospitality sector, Chinese students make up 48 percent of the "sommelier" division that prepares students to become wine consultants.
The changing demographic reflects the evolving global wine market.
In 2013, China surpassed France to become the world's top consumer of red wine-a 136 percent increase in only five years, according to Vinexpo, the industry group that hosts the world's largest wine and spirits fair.
China is now the world's fifth-largest consumer of wines in general, after France, Italy, the United States and Germany.