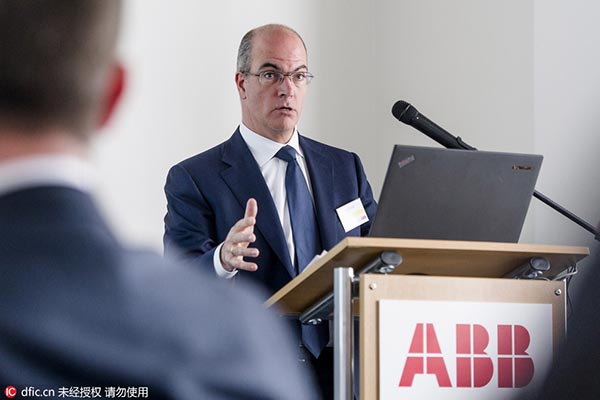 Claudio Facchin, president of power grids division of ABB speaks during the opening of new centre for energy systems automation of concern ABB in Trutnov, Czech Republic, April 23, 2015. [Photo/IC]
ABB Group, a Zurich-based electricity and automation solution provider, sees great opportunities in China's clean-energy incorporation and micro grid drive, according to the company's top executive.
"China has determined its goals in carbon dioxide reduction. This goal is going to generate large investment in a lot of sectors," said Claudio Facchin, president of power grids division of ABB. The company offers technologies for clean-energy incorporation into the conventional grid in large and small scale, said Facchin.
According to Facchin, the company's high-voltage direct-current technology is able to ensure stable and cost-effective long-distance electricity transfer.
ABB has participated in the Xiangjiaba-Shanghai electricity transmission route, which covers nearly 2,000 kilometers from Chongqing to 24 million users in Shanghai, using HVDC technology.
HVDC is at the moment one of the most reliable technologies for long-distance power transmission. The first commercial HVDC route was built in Sweden in 1954 by ASEA, which was the former company of ABB.
ABB has more than 110 HVDC projects around the globe, accounting for around half of the installed capacity throughout the world. It has been involved in 22 of China's 30 HVDC projects, providing core technological support.
In terms of small-scale clean-energy incorporation, ABB has sophisticated automatic solutions and power storage technologies for micro grids to ensure its stability, said Facchin.
ABB has collaborated with South Korea's Samsung SDI and China's automaker BYD Co in electricity storage, a key technology for the stability of micro grids.
"China's renewable energy drive started by enhancing installed capacity. The country now has the largest wind and photovoltaic market," said Gu Chuanyuan, chairman and president of ABB (China) Ltd.
"In the next phase, particularly after China joined the climate treaty in Paris, it has more ambitious plans. The more wind turbines we build, the higher the requirement on stability and safety gets. ABB has an all-around solution in technologies, portfolio and market coverage that we can offer to the China market in terms of how to get renewable energy's incorporation under control," said Gu.
The unused installed capacity of clean energy is a major bottleneck that China's environmental drive faces, said Qin Haiyan, director of the wind power committee of the China National Renewable Energy Center, at a seminar held by the center in March.
According to Qin, the losses of electricity caused by idle wind-power capacity stood at 101.5 billion kilowatt/hours from 2010 to 2015, equaling the total power generated by the Three Gorges and the Gezhouba hydropower plants in 2015.