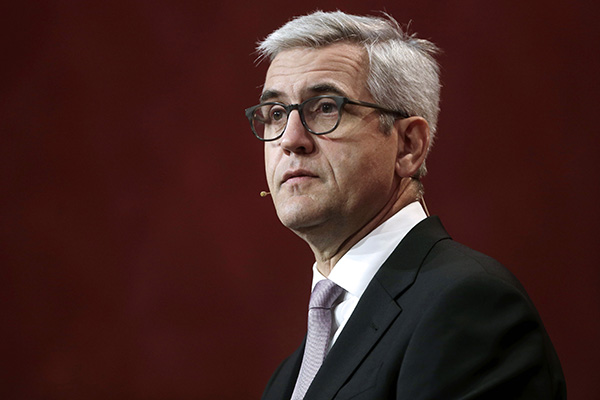 Ulrich Spiesshofer, chief executive officer of ABB Ltd. [Photo/Agencies]
ABB in line with China's shift from production to consumption and environmental performance, says its chief
Ulrich Spiesshofer, who leads a global company that provides power and automation technologies, drives an electric vehicle and lives in a low-energy house.
It is only natural that the 51-year-old chief executive of the Switzerland-based ABB Ltd would be enthusiastic about working with BYD Co Ltd, a leading maker of clean energy vehicles that is half a world away, in Shenzhen in southern China.
"We believe the partnership will accelerate the introduction of new solutions for electric vehicle charging, the fast ramp-up of renewables combined with energy storage as well as battery and energy storage solutions for the fast growing marine segment," Spiesshofer said.
The joint venture is just one of the many projects that ABB has undertaken in China.
Last year, ABB rang up sales over $5.8 billion in China, which made it the second-largest market of the company.
Recently Spiesshofer spoke to China Daily about his strategy and new opportunities for ABB's China operations as well as his management style. The following are edited excerpts of the interview.
How would you comment on the prospects of your company in China in the context of China's current economic situation?
There is a strong focus in China on moving to a more consumer demand driven society and there is continued investment in the country's grid, specifically high voltage direct current transmission technology.
In this area, ABB won recently orders that included two new HVDC power transmission links that are designed to transport 8,000 megawatts each of wind and thermal power from Shanxi to Nanjing and from Jiuquan to Hunan, to meet the electricity needs of 26 million consumers. Looking ahead, we see China continuing to grow, and ABB continuing to be a strong partner.
We are committed to our customers in utilities, industry, infrastructure and transportation so that the automation and power products, systems and services we supply can make a global contribution to reducing energy use .
What is your biggest achievement in the Chinese market?
ABB's "In China, for China and the World" strategy has continuously enhanced our local research and development and innovation capacity since the establishment of our first local joint venture in 1992, supporting the evolution from "Made in China" to "Designed in China", and China's transition into a leading industrial player.
In 2005 we established one of our seven global research centers in Beijing. In the same year, we set up our global robotics R&D center and production base in Shanghai. From 2010 to 2013, ABB doubled the size of its R&D team in China to further enhance the capabilities for local R&D and innovation.